Archived on 6/5/2022
Conveyancing

London11
14 Oct '19
Hello, can anyone recommend a good conveyancer in Forest Hill?
BMSE23
14 Oct '19
Hi, Armstrong and Co on Dartmouth Road are very good. If you'd look at someone out of the area, The Partnership in Guildford are excellent, very proactive.

Anotherjohn
14 Oct '19
Many years ago I had a quote from Armstrong & Co but I didn't use them because their charge was calculated as a percentage of the sale price of the property, plus disbursements.

London11
14 Oct '19
Thanks, that's helpful. Who did you use in the end?

Anotherjohn
14 Oct '19
Hi London
I'm not sure that my post is necessarily helpful because I don't know if Armstrong still use the percentage method; and I'm also not sure how Linskills (Liverpool) operate these days.
I simply did an online search for conveyancing and Linskills, along with many others, offered a fixed fee (as opposed to a percentage), which more than halved my bill.

London11
14 Oct '19
It prompted me question it so thanks for the tip.
Fixed fee sounds the way to go.

anon5422159
14 Oct '19
I used The Partnership when selling my house in Honor Oak. They were great - particularly their online reporting and form submission system

chamonix
14 Oct '19
This was what attracted me to The Partnership, but I found it clunky and poorly designed. Buying my place also took FOREVER and I had to chase them a lot on a number of occasions.

London11
14 Oct '19
Thank you very much all.
Some helpful insight here.

Chipcity
14 Oct '19
I am a property solicitor and you generally get what you pay for especially with fixed fees. Cheap is not always the best especially if you are buying and selling when a proactive solicitor can make all the difference in keeping the chain together. If time is not an issue and you do not mind not always being able to speak to someone then a fixed fee may be okay. Also check the fixed fee as sometimes there are extras that are not always apparent – mainly with leasehold where there are extra charges for a licence to assign etc. Some regional firms outside London are good and more reasonable as they have lower overheads.

Sherwood
16 Oct '19
When I used Armstrong & Co they charged me a fixed fee. You can always ask for a fixed fee whatever Solicitors say to you. They should know what the disbursements are going to be. The completion always takes place wherever the deeds are held. This is the only variable, which may involve travel to another office.

Anotherjohn
16 Oct '19
Sorry, I may have given a bit of a bum-steer when I referred to fixed fees.
What I meant was a fee which wasn't determined as a percentage of the property's value, a-la estate agent's fee.
The disbursements charged by an online conveyancer or local solicitor would generally be roughly the same.
My thing is I don't get why [most] estate agents and [some] solicitors set their fees as if they were charging a tax, when they're doing the roughly the same job whether selling a house for £600k or one for £1.6M but, at a 1.25% fee, their charge would be £7,500 or £20,000 respectively.

Chipcity
16 Oct '19
Unlike estate agents solicitors compete against each other and a scale fee in the sum of 1.25% is almost unheard of. Higher value properties are usually associated with more demanding clients (who expect to be able to speak to you a number of times each day and that you will prioritise) and higher risks. A bit of a generalisation but my experience none the less.

starman
16 Oct '19
I concur with @Chipcity. You rarely get good value from a cheap conveyancer, unless of course your purchase/sale is problem free. When we last bought/sold, we used a more expensive conveyancer which came highly recommended by two different friends. Their level of due diligence save us from a bad purchase in Streatham. I don't think a volume low-fixed rate solicitor would have caught the problems which came up.

Anotherjohn
17 Oct '19
Fair comment all round because we're all talking from our own experiences; and, as Starman says, it could be worth spending the extra money for peace of mind.
What I said about the 1.25% estate agents fee was only to illustrate why percentage-based charges for professional services don't make sense to me; and I didn't mean to suggest that a solicitor would charge anywhere near that rate for conveyancing.
Anyway, back to the main point, which was the original poster asking for a recommendation and a swift and positive response from a local estate agent suggesting a local solicitor - then I threw a spanner in the works. Sorry about that.

London11
17 Oct '19
Thank you everyone for sharing your experiences.

Anotherjohn
17 Oct '19
Ha!
Apologies for sharing mine.

Thorners
17 Oct '19
I just completed on a sale using Glazer Delmar in Dulwich. They were excellent, made the process really smooth and were always easy to get hold of.

Sgc
6 Jul '20
Afternoon all,
I may be in need of these services soon (fingers crossed) aside from the above recommendations has anyone else had good or bad experiences in the last year? Looking to sell a flat which likely could involve a lease extension as well. Anyone used conveyancer involving flat & lease which I know brings pitfalls with it. Didnt have great experience with people I used 4 years ago.
Any recent tips welcome.
Thanks

Chipcity
6 Jul '20
Hi, I am a conveyancer and yes the standard of conveyancing is a race to the bottom due to the fees being squeezed that results in the personal touch going out of the window. I mainly.deal with prime central London and we do charge more (not ridiculous fees) and accordingly, my clients can get me on my direct line and depending on the transaction will have my mobile number. How long is the unexpired term of your lease and have you owned it for at least 2 years. Depending on timescales and other factors it may be worth now approaching your landlord to discuss whether a contractual lease extension may be a possibility to avoid the cost and delay of a statutory claim that can put buyer's off or can result in them chipping the price to allow a safety margin that can be over zealous. If your landlord realises that you are selling then this can sometimes drive the offer price for an extension up although ultimately the statutory provisions will largely dictate the premium subject to a few variables that keeps the valuers in business.

topofthehill
6 Jul '20
I can unreservedly recommend Christopher Martin at Michael Roger's of Sevenoaks should you be requiring a surveyor for valuation purposes.
He undertook several valuations for lease extensions on behalf of our freehold company and we were very happy with the results. He knows the Forest Hill and surrounding areas extremely well and is conversant with property values in all such areas.

Sgc
7 Jul '20
Thanks for the tips @Chipcity and @topofthehill I am now learning about these matters. Certainly know more now about leasehold flats than I did as a naive first time buyer 4/5 years ago. Hard to avoid leasehold unfortunately though.

James_Todd
7 Jul '20
I can't talk about selling, but we purchased a flat with share of freehold in SE23 with the help of Shirley at Beverley Morris & Co on Lewisham High Street.They were very helpful and responsive, and I suspect they'd be just as good with the selling side of things.

HannahM
7 Jul '20
Never use a cheap online conveyancing factory if you are buying or selling leasehold. It could lead to an expensive mistake!

topofthehill
8 Jul '20
And if you are tempted, check their online reviews first!

Sgc
5 Jan '21
To update the thread as per recommendations on here I used the Partnership in Guildford to finally sell my flat & purchase a house. Their online portal is extremely useful for seeing progress & what is still to be done so you don't waste their time asking admin questions. Also easy to upload and share docs, share bank details etc safely. Several issues cropped up selling my flat, including a lease extension. All of which were dealt with efficiently and with my best interests at heart. Communication with everyone in the chain was great, unlike my buyer's conveyancer who nearly upset the apple cart. All sounds gushing but it is a stressful process. They were not the cheapest but I genuinely believe actually held our short but awkward chain together.

anon5422159
5 Jan '21
Congrats on completing the sale and buying a new house! Moving from a flat to a house changed my life for the better and I hope it does for you too.
Glad The Partnership worked well for you.

Sgc
5 Jan '21
Not sure why I added all those details…

waffling
But the leasehold part was important!
So far no regrets, albeit a lot of online purchases & cardboard everywhere due to lockdown

Pea
3 Feb '22
We've just sold and purchased and used Peter Lynn and Partners for conveyancing. Not the cheapest, but also not the most expensive but were well recommended for the standard of service. We were selling share of Freehold flat and they understood all the quirks about that too.
They were on the ball meaning we had a quick (2.5 months) from instructing to completion on sale and purchase, whilst having attention to detail. Was a stark comparison to the old fashioned, slow and completely unresponsive solicitors we used previously.
We used Ian and business card below.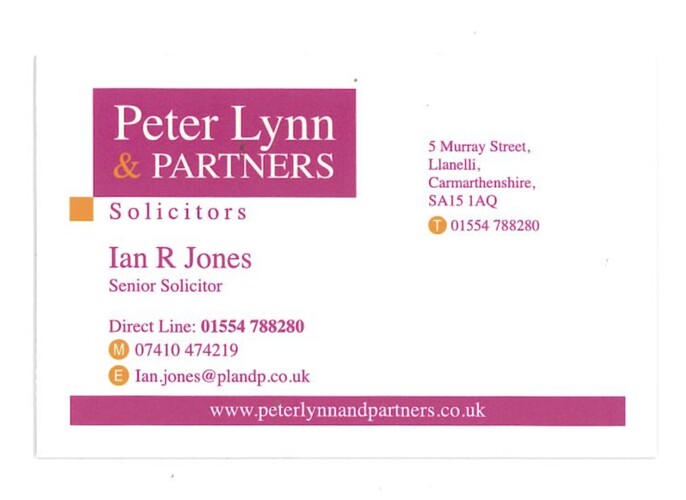 Sherwood
4 Feb '22
Many solicitors have too much work and not enough staff. This is usually the reason for the conveyancing taking a long time. I have known cases where they made up excuses to explain the delays!