Archived on 6/5/2022
New: Forest Cafe and Bistro


JA
14 Feb '20
Really excited to be reading this. Do we know what type of food they will be serving in the Bistri?

Beige
14 Feb '20
Does anyone know if this new place is going to be occupied by the Big Breakfast (people at least)? Or did the plans we saw not come to fruition?

ThorNogson
14 Feb '20
ah I see I may have given the impression that this is not the Big Breakfast people - no they move in in about 2-3 weeks and their old premises will become Ibo's barbers. It remains to be seen what aspects of the menu actually change along with the name, but the interior looks like it will be great.

Bolgerp
14 Feb '20
Foodie quarter? Perry Village?? Have I missed a Brixton Village style rebrand??

ThorNogson
14 Feb '20
oh yes. happening right here.

TomAngel
15 Feb '20
For all those foodies - yes, it's the Big Breakfast cafe. it's moved to the left, while Ibo's barbers have moved into their old space. It's a good idea, although I wouldn't be holding your breath for artisan sourced Norfolk wild truffles.

Robin_Mezzoo
6 Mar '20
Hi everyone, Good news for new cafe & bistro in #foresthill #SE23 will opening soon, opening hours as usual 7am and closing time 8pm… with new menu for the residents, they added kebabs cooked on barbecue grill…! Warmly
Welcome everyone

Uploading: IMG_20200314_201115_487.jpg…

ForestHull
10 Mar '20
I see the Bistro is applying for an alcohol licence, between 10:00 and 19:30 daily (18:30 Sunday) which I hope means they are going to be even more upscale than the old but much loved cafe.
I'm looking forward to seeing the menu soon!

Rob
10 Mar '20
Looks a bit generic, sad they couldn't keep some of the original external features like the glossy tiles


ThorNogson
14 Mar '20
Sauces out on the tables. Opening on Monday.


Estelle_Lauren
16 Mar '20
Menu looks great! Maybe they could sell gift vouchers? So the local community could support whilst isolating? I'd gladly treat the husband to a breakfast for the non quarantined date in the future

Londondrz
16 Mar '20
Or take away. Keeps the business going whilst keeping away from crowded places.

ForestHull
17 Mar '20
Oooh - I almost missed that the post up above has added pictures of food and all sides of the menu, which has a children's section too!

ForestHull
17 Mar '20
Yep, they do do take away.
I just had a nice panini and fairly good Cappuccino from there to help with home working. Fast and friendly service too. This could become a regular thing!
It seems reasonably busy this lunchtime, given the circumstances, though there were still plenty of free tables (outside too).

ThorNogson
17 Mar '20
Must have been there at the same time. We sat outside in the sun. Eggs Florentine did not disappoint.

ForestHull
17 Mar '20
I was on the lookout, but I didn't see anyone with a viking helmet


Leah_C
17 Mar '20
Fantastic! Good veggie options and so close! Will definitely be trying out their breakfasts soon.

ThorNogson
17 Mar '20
Ah yes - today is not a ceremonial occasion. St Patrick's day doesn't count.


James1P
21 Mar '20
Great news. We had breakfast there on Thursday so looking forward to trying the rest of your menu.

Robin_Mezzoo
28 Apr '20
Hello dears residents Customers we all hope everyone are safe and healthy,
The Forest Cafe&Bistro is re-opened for serving on 29/04/2020 Monday - Saturday from 10am- 8pm Sunday 10am - 5pm for takeaways ONLY, walk in or phone order for collection the number

02036742152 /
Thanks for your understanding and your patience
Best Regards
Forest Cafe&Bistro !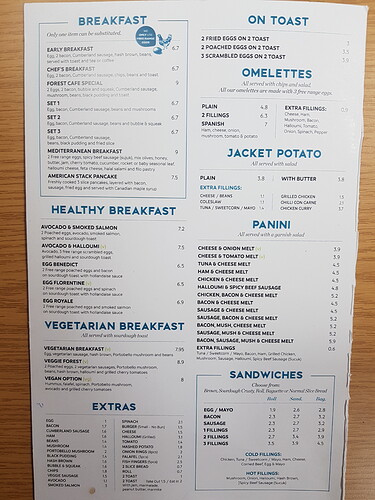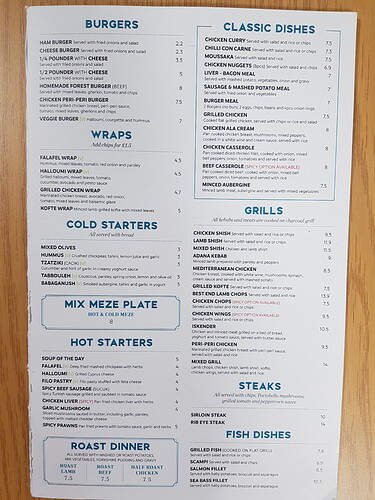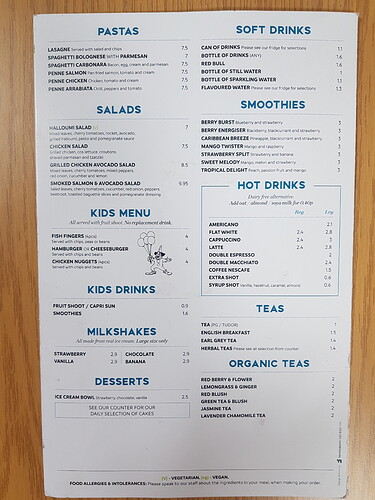 JM
30 Apr '20
Had a take away this evening, delicious and will definitely be returning! Thanks

natstallstephens
1 May '20
We just had takeaway breakfast from here - really tasty and decent portions. The avocado and halloumi on sourdough was great. We'll be ordering again!

KatM
1 May '20
We had lunch from here yesterday. Generous portions and all really fresh and tasty; very good value. They can't do delivery at the moment so if you're local and able to collect via takeaway they are definitely worth supporting.

Sarah23
1 May '20
Delicious food this evening from the grill. Please do make sure you support this new restaurant at this time if you can. Big portions and reasonably priced.

Robin_Mezzoo
1 May '20
Very appreciated many Thanks


Robin_Mezzoo
1 May '20
We are glad to hear that from you
Very appreciated many Thanks


Robin_Mezzoo
1 May '20
We are glad to hear that from you
Very appreciated
many Thanks



Martine78
3 May '20
Will you be delivering soon?

James1P
3 May '20
What time do you close today?

Robin_Mezzoo
3 May '20
Hi… we are closing at 6pm

Robin_Mezzoo
3 May '20
Hi… thanks for reaching us, we applied to the uber eat and delivero… we waiting responding
We will advert soon as we get
Best regards

Robin_Mezzoo
3 May '20
We are glad to hear that from you
Very appreciated


many Thanks

James1P
3 May '20
Thanks. What's the latest we can order takeaway for dinner?


theblondemilitia
3 May '20
We had chicken shish and peri peri chicken with salad, chips and rice, 3 portions fed 4 of us, they also put some flat turkish bread in with the order as well, all was excellent quality. Salad was particularly good, not your usual rubbish iceberg lettuce!
Am so delighted to have these guys on our doorstep and not to have to cook a meal myself for a change! Would highly recommend (-:


Robin_Mezzoo
5 Jun '20
Reminding…!!
Our closing hours has been changed
Mon- Saturday 8pm
Sunday at 7pm

starman
5 Jun '20
Are you doing coffee drinks with dairy alternatives? I am gasping for a well-made almond flat white.

Sarah_Roberts
7 Jun '20
My mum has managed to pick up a takeaway menu.

ForestHull
7 Jun '20
Welcome to the forum @Sarah_Roberts!
There's also a copy of their menu and contact details up the thread, here New: Forest Cafe and Bistro
@starman - if you are still gasping for an almond flat white, I notice they are on the menu (40p extra for dairy alternatives), if you fancied a trip down to Perry Village


se23blue
17 Feb '21
After our experience today I would suggest to avoid ordering from the Forest Cafe and Bistro via Uber Eats all was going well until we received an email from Uber saying "We're sorry your order did not arrive",even though they had our contact number and we had been given the name of the driver,make and registration number of car.
Having phoned the Forest Cafe and Bistro no apology was offered and we were told to contact Uber.

ChrisR
17 Feb '21
Sorry to hear you've had issues with ordering at Forest Cafe and Bistro through Uber Eats. I've ordered from there a couple of times through Uber Eats in the last couple of months and have been very happy with the quality of the food and haven't had any issues with Uber either. I just wish they were open later than 7pm!
If Forest Cafe & Bistro are telling you to contact Uber then it sounds like the order didn't get to them from Uber. In my experience if the Cafe & Bistro have an issue or query with the order when they receive it they will call you. In my case they had just run out of one of the dips I'd ordered and they called me within a couple of minutes of me placing the order to see if I would be happy with an alternative option.

HillLife
17 Feb '21
I feel your frustration it's annoying when you have to rely on UberEats or Deliveroo to get takeaways from your favourite food places. Our pizzas from Bona (delivered by Deliveroo) have nearly always been delivered with the pizza squashed up to one side of the box or the incorrect items sent, it's just so frustrating trying to resolve with either parties that I've just had to stop ordering deliveries from Bona altogether. Much more care and consideration is given by restaurants when they deliver the food themselves, Uber and Deliveroo more often than not don't care whether your pizza turns up as complete mush.
I won't order from certain online retailers too if I know they deal with certain unreliable couriers, it's just not worth the aggro, especially when the couriers won't deal with you directly and it has to go through the retailer.

Beige
17 Feb '21
Are you a customer service rep?

ChrisR
18 Feb '21
No - just a customer a couple of times.


Pea
28 Mar '21
What a nice little addition. I've been meaning to post on here about the food. Until recently we'd never tried it, but recently had a Falafel or Halloumi wrap a few times and it's fab. Also ordered a side of Baba Ganoush with warm bread - will certainly be making this a more regular place for food.
My only negative is the packaging is polystyrene- this is quite a big downside for me so if they can change that it gets a 5 star rating.