Archived on 6/5/2022
Marvellous Greens & Beans [Now Open]


Jack
27 Apr '20
Marvellous Greens & Beans opened this morning on Brockley Rise!
The guys who run it are lovely. Really chatty and friendly. An excellent range of fresh organic fruit and veg, fresh bread, eggs, milk, and takeaway coffee!
An excellent addition to the area! Please everyone go check them out! I got myself a haul this morning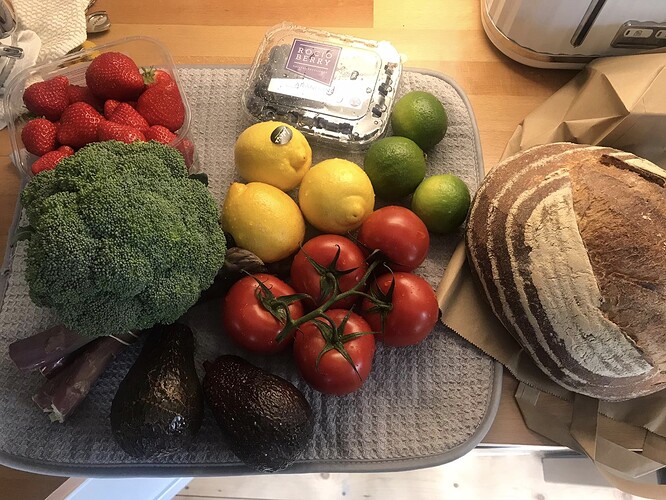 Thewrongtrousers
27 Apr '20
I always thought we need a proper green grocer round here. I shall be going to have a look. Thanks for the heads up

Suze
28 Apr '20
Good range of fresh quality stuff and friendly staff. I was a bit concerned about the social distancing though - it was quite crowded in there when we first walked past and when we returned there was quite a crowd of guys drinking coffee outside and one old bloke swigging Sambuka and coffee…

Billie
29 Apr '20
Got some lovely produce here a couple of days ago including eggs. They said the bread flew off the shelves in the morning. Really nice friendly staff. Most of the produce is outside under the canopy so you only go in to pay. I do hope they get enough custom.

Gillipops
8 May '20
Really pleased to see a green grocer. I finished up driving all the way to Sydenham the other day to buy a green pepper, because all I could find around here were the multi packs of yellow and red ones!

Lesley_Wilkins
8 May '20
Love this place already. Great quality veg and fruit. Plus the guys are super friendly. Will defo use this for all our fruit / veg from now on.

BrightStar
9 May '20
We went in there this morning and bought some lovely mangoes and vegetables!


Irmani_Smallwood
10 May '20
We just bought our first veggies from there and lovely quality produce. So glad we now have a local greengrocers! Really handy location too - let's hope they get enough custom. We are planning on making it a regular stop for supplies.

Billie
15 May '20
Went there again today. Got lots of lovely veg and a sourdough loaf. They've got plenty of eggs too. The staff are lovely and they remember you. Walking back home past Provender - which looks to be the best stocked I've ever seen it - they had a big stack of bags of flour.

knot_in_denial
15 May '20
Adding my great experience to the chorus. Fantastic produce, decent prices and lovely staff. Had some of the best-ever fruit smoothies as well as tasty fruit/veg in the past few days with purchases from MG&B. Strongly recommended!

starman
15 May '20
Anyone know how late they are open? I'll be passing on my health walk and am desperate for a latte.

Matthew_Benney
15 May '20

anon27836993
18 May '20
O M G the coffee in this place is amazing the staff are lovely welcome and stay please!!

Billie
16 Jun '20
Popped in this afternoon. It's a bit of a disaster for them - their card machine isn't working and they won't have one for the next two or three days. There is a pretty filthy cash machine next door but a lot of their customers don't use cash and spend via their phone so don't have a card with them to get cash. So for the next few days you'll need to take real money.

Michael
9 Sep '21
Article about Marvellous Greens and Beans from the latest Forest Hill Society newsletter.