Archived on 6/5/2022
Covid hotspot calculator


clausy
5 Sep '20
Interesting they use 50 in 100k as a baseline for a hotspot yet they lockdown travel from countries when they hit 20.

anon5422159
9 Sep '20
To counter recent fearmongering about a U.K. "second spike" here's an excellent thread from Twitter:



PV
9 Sep '20
They have a good app, would recommend people sign up.
Sadly Whitty has just noted that as well as the number of positive tests increasing, the proportion of tests coming back positive have spiked too, so the hope that the spike can be attributed at least in part to more tests doesn't seem right. There's positive news about the age groups, but that still carries a huge risk of transmission to higher risk groups. We should all be cautious.

PV
9 Sep '20
What's the fearmongering you're referring to out of interest? Most of the coverage I've seen appears fairly middle of the road.

anon5422159
9 Sep '20
Lots of news outlets discussing the second spike and the 2,948 new cases in 24 hours - but this appears to correspond with a massive ramp up in testing, not a massive ramp up in viral spread (as indicated by the graphs in the tweets I shared above)

PV
9 Sep '20
I think the press conference today confirmed that the proportion of positive tests has spiked too, a measure that isn't distorted by the net increase in testa sadly.

Thewrongtrousers
10 Sep '20
Thanks for the link, I am going to join.

clausy
24 Sep '20
I wonder if you saw that in NewsShopper or if they saw it here and then published this…

Your post says 'created 19d' and 19 days back from today is the 5th Sept so they line up perfectly, I just can't see who's the chicken and egg

it would be more amusing if they pick up news from here.




ForestHull
11 Mar '21
We're still 'winning' at bottom of the 'leaderboard' too, though most \ all boroughs are doing well: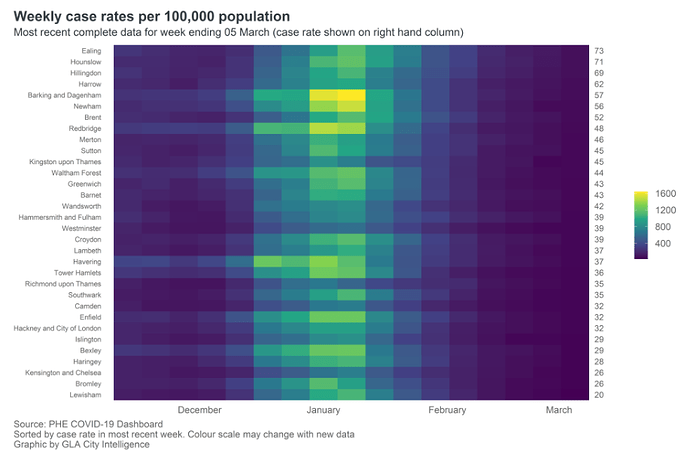 Source: Coronavirus (COVID-19) Daily Update – London Datastore
It will be interesting to see if we get a bounce now schools have re-opened.