Archived on 6/5/2022
We made an SE23 loop


applespider
16 Sep '20
That's a fun idea! Well done… particularly with the hills we have around here!

clausy
16 Sep '20
I had to stop quite a few times to check the borders - next time will be quicker. I've got a couple of other routes where you can do 1000ft of climbing in under an hour in-between meetings if you're bored


John_Wilson
16 Sep '20
The first 200m would give me a heart attack, the last would give me a second one! How much time do you have between meetings?

Dood
16 Sep '20
That looks great! Are you able to share it as a map rather than picture? I'd like to somehow put it in my Strava or google maps and get directions.

clausy
16 Sep '20
I've sent you a PM, but this gives me an idea - we could maybe set up a weekly 'park run style' SE23 loop on a Saturday morning… I will post over in the Cycling group. About the Cycling category

Beige
17 Sep '20
I don't think you can actually cycle the border in my neck of the woods. Levendale Road is the border, but you would have to go down Helvetia St and Nyon Grove to get there… and these are in SE6
.

clausy
19 Sep '20
Saturday morning social loop with @Dood @Foresthillnick and @jonfrewin probably 50% bike and 50% chat - really lovely morning.
If you want to join next week, head over to Weekly SE23 loop and watch for details. We'll probably be doing an afternoon ride with a pub social afterwards.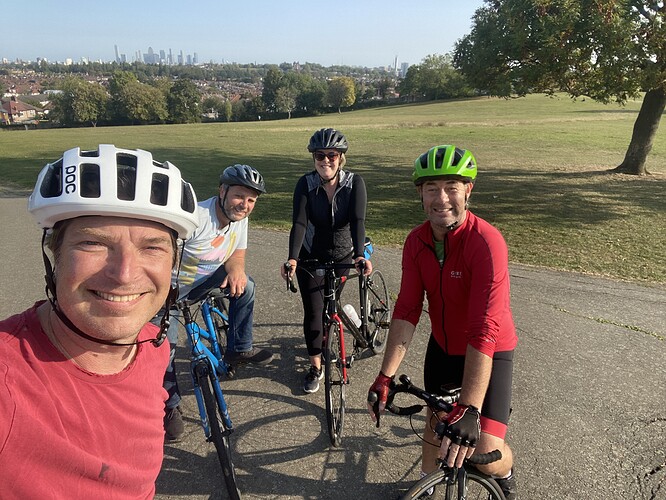 Honeycomb
20 Sep '20
@clausy interesting route you've made. Would you mind sending a brief description of the route as I'd like to walk it as part of a virtual walking challenge. Thanks

clausy
21 Sep '20
Absolutely, but you also have to tell me what a 'virtual walking challenge' is!
Disclaimer: I don't think this is perfect, but it's the closest I could figure out from simply typing 'SE23' into Google Maps and tracing the border.
OK let's pick an arbitrary start point: Wood Vale junction with the South Circular.
Down Wood Vale all the way to Forest Hill Rd, turn right and immediate left into Brenchly Gardens. At the end turn right onto Brockley Way then over the pedestrian bridge. Right onto Buckthorne Road then left onto Bartram Road. Diagonally across the main road onto SevenOaks Rd, all the way to the end and through the pedestrian cut through, Right onto Crofton Park Road.
Keep going until you get to Blythe Hill Fields and then over the top of the hill straight across and onto Blythe Hill Lane all the way down, across the Circular and down Blythe Vale to the Perry Hill junction, the right onto Woolstone Rd.
Next it gets a bit confused - lots of small left/right turns to get back to Perry Hill - I use Broxted Rd, Neuchatel Rd, Clarions St, Helvetia St and then right onto Perry Hill then down to the big Bell Green Junction - turn right onto Perry Rise. Left onto Queenswood Rd, past the school onto Dacres Rd, then turn right at the T junction (still Dacres Rd) and then over the pedestrian footbridge opposite Inglemere Rd. Up Sydenham Park, right onto Sydenham Park Rd, then right on Dartmouth and left up Thorpewood Ave.
I skip the Eliot Bank estate - border seems to go through there but to avoid complexity and the rather awful road surface on a bike on Eliot Bank I just stay on Thorpewood and then right up to the roundabout at the top of the hill.
Come back down Sydenham Hill and you're back to where you started 6.8 miles later


John_Wilson
21 Sep '20
Not to be controversial - I think there are better walks you can do around here - this one is quiet tuned to cycling because you are restricted by hills and bad paths ir doesn't get some of the nice views (Horniman/ Horniman Drive) or nice woods - One Tree, Dulwich or parks - Peckham Rye, Mayows Park

clausy
21 Sep '20
Oh I definitely agree, it's not even a great cycling route, it's just for fun. I was intrigued by 'virtual walking challenge' like it's some kind of zwift style indoor trainer thing?

beatrix
22 Sep '20
I think it's a great route, thanks for sharing it. I'm using it to train for my 10km virtual run. What's a virtual run? It's the Vitality London 10km I was supposed to run in July but now I can run it anywhere and in my on time during October and submit a screen shot of the run from my running app to them to get my medal.
It's the second time I've ran a 'virtual' race this year and probably won't be the last for a long time.

Honeycomb
29 Sep '20
Hi everyone and thanks @clausy. I'm walking the equivalent distance of lands end to John o groats but instead of enjoying the bottom to top country I'm walking it locally. Really great fun but just to mix it up looking for different routes and your se23 one looked interesting. Each day I keep tabs on the distance covered on each of long walk and enter it into the hosts website. It's been good just to get out and a bit more fitter.