blushingsnail
2 Nov '20
The Forest Hill Society will soon be embarking on an initiative to get us exploring our local shops and businesses in the run up to Christmas (and beyond). It will cover the whole of SE23 and we've discovered there are 8 (8!) shopping areas within the boundary.
FHSoc would appreciate your suggestions for names or descriptions that can be used to help people easily identify the different shopping areas of Brockley Rise/Stanstead Road/Perry Vale. A no-expense-spared map is shown below, numbering the areas from 1-8.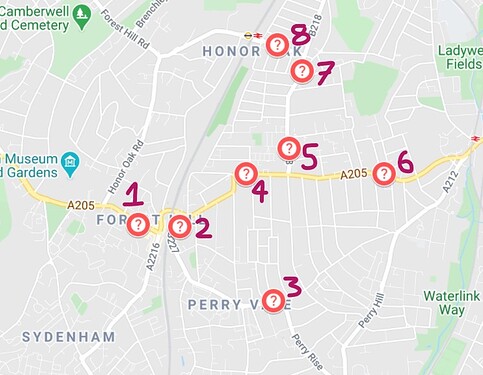 Forest Hill town centre (London Road, Dartmouth Road, Davids Road).

Perry Vale (upper end). Perry Vale/town centre? Perry Vale/station?

Perry Vale (lower end). Old Fire Station? Perry Vale/Perry Rise?

Stanstead Road aka "The-main-road-bit-of-Stanstead-Road-just-before-it-becomes-a-residential-road-although-most-people-don't-know-they're-the-same-road". The end with Shannons Garden Centre/the Co-Op/Mind Body Spirit etc. Stanstead Road near the fire station? BP garage? Railway Telegraph?

Brockley Rise/Stanstead Road junction

Stanstead Road aka "the-part-of-Stanstead-Road-with-shops-nearer-Catford-but-not-as-far-as-Catford-itself". Blythe Hill Lane? Blythe Hill Tavern?

Brockley Rise/Stondon Park. Chandos triangle?

Honor Oak Park. HOP parade?
Fortunately this isn't a democratic process and any suggestions containing the word 'village' will be ignored. As will the suggestion that initial letters be swapped around to make Verry Pillage. Although now I see it written down, I quite like it…
So dear readers, over to you.