SE23.life
5 Nov '20
Private messaging is a feature enabled automatically for members after they've engaged positively on the forum over a period of time.
Private messages allow members at Trust Level 2 and above to have conversations which are kept private from the rest of the forum. This can be useful for swapping phone numbers or addresses and other personal details e.g. to arrange collection of goods for a sale or swap.
To send a private message, click the circular avatar icon of the member you wish to message, then select the green

 Message button to start a new message: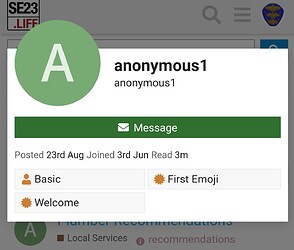 If the green button is missing, it is likely that your Trust Level does not yet allow initiation of private messaging, though you can still receive and reply to private messages from others.
In order to get automatic promotion to trust level 2 (after which you can send PMs), you need to do some of the following:
visiting at least 15 days, not sequentially
casting at least 5 likes
receiving at least 5 likes
replying to at least 3 different topics
entering at least 20 topics
reading at least 100 posts
spend a total of 60 minutes reading posts
Getting your profile verified will short-cut this process.
Alternatively you may contact @moderators to request a private message thread be created for you if needed, on a one-off basis.