Archived on 6/5/2022
In at no 2 this week. It's Lewisham Parks

ThorNogson
26 Nov '20
No 2 out of the London boroughs. Nice to see.

ForestHull
27 Nov '20
Great News!
The glossy full report is a bit tucked away, but for those interested, it can be found at: https://parksforlondon.org.uk/wp-content/uploads/2020/08/Good-Parks-for-London-2020-Final.pdf
They have a very colourful ranking of the boroughs, which looks like this: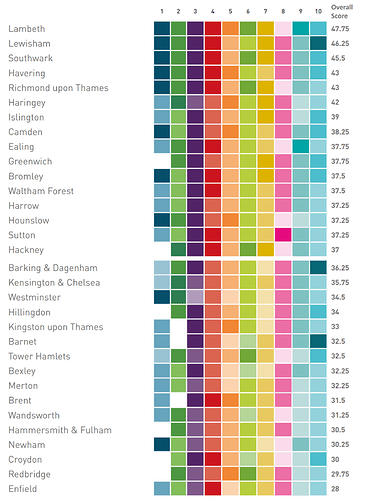 The report also contains a section written by Councillor Sophie McGreevor (Cabinet Member for Environment and Transport), and a section on Glendale Lewisham.

Michael
27 Nov '20
More evidence that Lambeth, Southwark and Lewisham should form a super-borough that would out-perform the rest of London and still have a population less than Birmingham City Council.
Not sure why Greenwich or Westminster should do so badly. They both have some of the best parks in London by any objective measures.

ForestHull
27 Nov '20
There are some exclusions for the considered parks & green space which could explain some of that. From the report:

ThorNogson
27 Nov '20
Oh, you'd be a bit miffed if your Borough wasn't allowed to count its Royal Parks or Olympic Park. Never mind, that's the rules!

anon5422159
27 Nov '20
Why would a list of "good parks" exclude Royal parks (to which the public is welcome, and which are the pride of London's green space)?
Curious as to the people behind this exercise, and what their motivation is?

oakr
27 Nov '20
Yep not including Royal Parks is bizarre - Richmond Park has always been my favourtie park in London, loved since I was a child and used to cycle there and do a lap before returning home when I was fitter!
Still we do have some great parks here, just need to get some deer into Beckenham Place Park!

ThorNogson
27 Nov '20
Yes it would be- and the report doesn't really do that. The first section of the report is not a list of good parks, more an assessment and comparison of how well local authorities are managing the green areas they are accountable for.

ForestHull
27 Nov '20
Exactly - it would be a bit 'unfair' to measure a borough's performance on things they don't directly manage themselves…
Still, it does penalise boroughs where management of green space may not be such a priority as there are other organisations taking care of it for you (like the Royal Parks).

Michael
27 Nov '20
Horniman is also a fabulous green space that is not managed by Lewisham so is usually excluded from these sorts of assessments.

clausy
27 Nov '20
Ironically Richmond would probably do worse if they included Richmond Park as it's pretty much recently become Richmond Car Park at weekends and Richmond Rat Run Park during weekday rush hours. And maybe we'd be #1 if we could include the Horniman


ForestHull
27 Nov '20
The second section of the report does look at the other parks, just not in the context of the boroughs. It has a page about "The Royal Parks creates car-free spaces", mentioning measures being taken in the various parks, including Richmond Park:

oakr
27 Nov '20
Fair point, I should have actually read this a bit more before commenting - schoolboy error on my behalf…
My sister lives a 5 minute cycle from there. During lockdown 1 it was banned to all cars and adult cyclists at certain times, but you could go in with kids cycling, they had police on all entrances policing it I think. It was amazing apparently with the roads car free.

clausy
27 Nov '20
Spotted this post from tonight
Not a good look.

starman
27 Nov '20
It's a shame about the clogged arteries through some of these… but Richmond Park is huge. A friend who lives nearby is always posting the most spectacular pictures, using including a majestic stag in the mist.

oakr
27 Nov '20
Indeed it is. My niece found some antlers as well in there, now hanging up in their house.
I think it would be nice if they had periodic times it was closed to traffic, maybe each Sunday for example or 1 in 2.

ForestHull
27 Nov '20
Build a tunnel as a bypass? We can dream I suppose…