ForestHull
28 Nov '20
School Applications
General information about applying for primary schools in Lewisham can be found on the website: Lewisham Council - Applying to start primary school in September 2022
Applications for the school year staring September 2021 opened on 2020-08-31T23:00:00Z and the deadline for applying for a primary school place is 2021-01-15T00:00:00Z.
School Information
The following table gives a rundown of local state-maintained Primary Schools together with some useful links to their websites, previous Ofsted reports and intake data from the previous school year. Note that during lockdown, Ofsted suspended school inspections, and performance data is not being published for this academic year.
This table is ordered alphabetically.
Notes:
a Data taken from Stillness Junior school (8-13 year olds) as infants (5-7) are not assessed.
* Catchment and Reception Intake are taken from 2019-20 figures: https://lewisham.gov.uk/-/media/reception-application-and-offers-2020-21-intake.ashx
** Last Ofsted reports reference: https://reports.ofsted.gov.uk/
*** % Standard taken from https://www.compare-school-performance.service.gov.uk/. It is described as:
The state funded average in 2019 was 65%.
Progress Scores in Reading, Writing and Maths
This chart is ordered by % of pupils meeting the expected standard.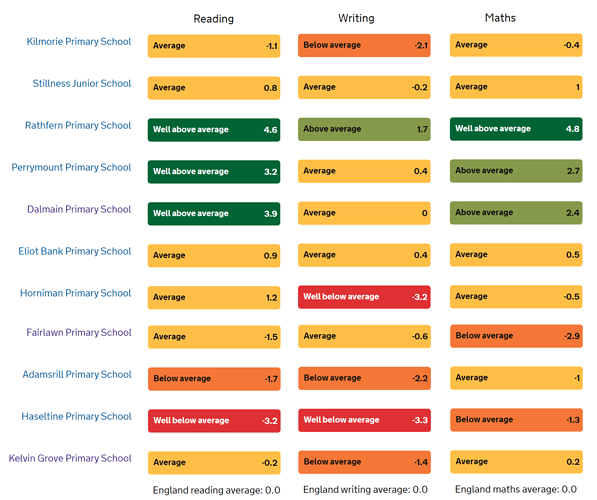 Source: https://www.compare-school-performance.service.gov.uk/