Archived on 6/5/2022
Quartz worktop repair



Beige
9 Feb '21
I did a similar fix to a black hearth - came out well… main issue here is going to be matching the colour. If it's just grey (no tones of other colours) when you could buy a couple of the epoxies and carefully measure and mix them and cure samples of them and attempt to work out what mix would match the quartz… not an easy job though


Pea
9 Feb '21
Thank you. I will do a bit of research but this is all so helpful.

Pea
9 Feb '21
Thanks Tony. I think this is quite a niche recommendation so may have to just go with google


Beige
9 Feb '21
not a recommendation (I know you asked for a rec so this isn't exactly what you asked for), but how about this guy:
first review mentions kitchen worktop


Pea
11 Feb '21
Amazing. I might email them for a quote as that would be MUCH lower than we've had quotes for elsewhere. Thank you so much.
How did you do yours out of interest? We have some super heavy glasses and one fell down when I was unloading the dishwasher


Stammers
12 Feb '21
It's a mystery… I suspect the cleaners.
It is located by the microwave so it would make sense that it happened when taking something heavy out of it which banged against the edge.
Nice colour scheme by the way


Pea
12 Feb '21
Haha I know. Think we've gone for very similar.
So annoying it chips isn't it.

Pea
17 Feb '21
We ended up using Geology in Beckenham. The company mentioned above only repair if worktop is originally purchased from them. Geology were speedy, efficient and did a good job. Their prices were also the most competitive for such a small job.
NB every company we spoke to said from a distance you won't notice, but up close you would always seem some sort of repair.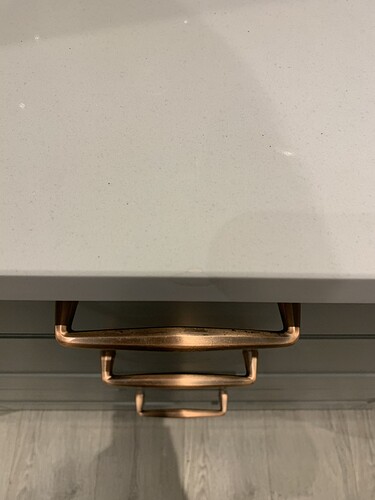 ForestHull
17 Feb '21
That looks fantastic @pea - you must be pleased

Am I allowed to ask roughly how much it cost? Is it tens, hundreds or closer to tens of hundreds?

Pea
17 Feb '21
Yep really pleased and glad it's fixed. £140 - chip is probably the size of my small fingernail.


Stammers
19 Feb '21
Looks good!
Out of interest, the company who supplied your quartz originally don't offer the same service?
I'm getting mine fixed on Monday and will report back.

Pea
19 Feb '21
Weirdly they are based up North so too far for a small repair. Hope yours goes well.