wmorgan1
30 Mar '21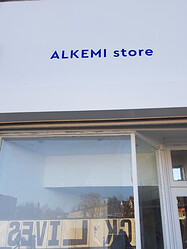 From their website
ALKEMI store is an independent lifestyle store where you can find things that are not only timeless and beautiful, but also very practical and long lasting.
With the mission of presenting 'Beautiful Objects for Everyday Life' to people in South East London, ALKEMI store first opened its door in Nunhead in October 2017.
ALKEMI store showcases many independent brands / makers from all over the world – Korea, Japan, UK, Denmark and Sweden to name a few that are made with utmost care and artisanship.
ALKEMI store also works with many local artists and makers introducing and selling their works in the store. Check the local artists / makers who can be found in the store on their websites as well - Bomull Press, Snuffles and Spud, Caro Gates, Lucia Fraser and Sue Ure.