teatrovivo
3 Feb '22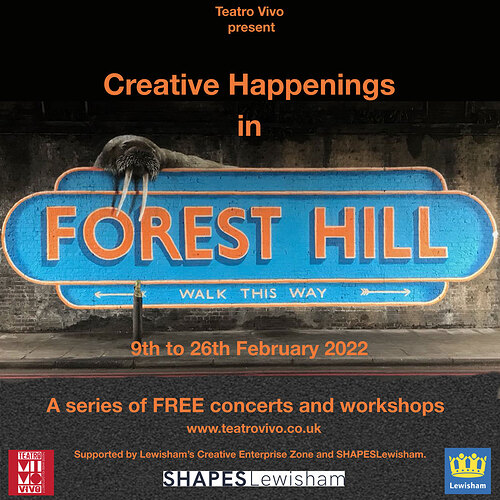 Throughout February we've got a load of free performances and workshops in Forest Hill.
You can write with Bernadette Russell, dance along to Tadlo Boled, recite Shakespeare with Debbie Korley, imagine with Kerttu, bring your family along to create in a half-term workshop , feel alive with Carmina Masoliver and party in a car park with Hugh Barnett.
We'll be at various venues including Canvas & Cream and All Inn One
For more information check out our website: https://www.teatrovivo.co.uk/…/creative-happenings-in…
With thanks to Forest Hill Society , and to Lionel Stanhope (for use of his Forest Hill mural).
Funded and supported by: SHAPESLewisham Lewisham Council
#se23 #foresthill #lewisham2022 #music #live #poetry