SydArts
14 Apr '22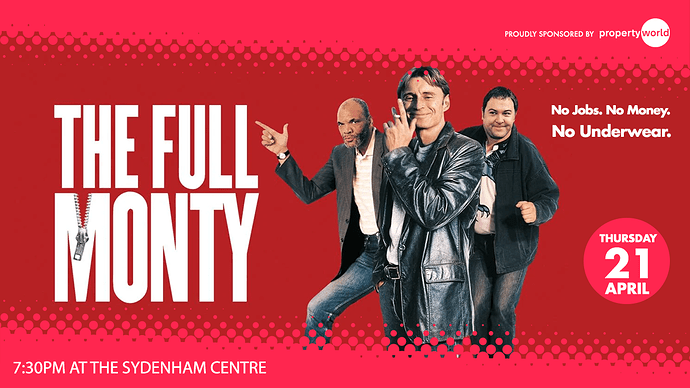 Thu 21 April, 7.30pm. Tickets £6.50
Upstairs @The Sydenham Centre
Join us for our uplifting April screening, The Full Monty.
Winner of Multiple Baftas and other prestigious film awards, The Full Monty, directed by Peter Cattaneo is a funny, heart-warming and gritty British Classic.
The film follows a group of recently unemployed men from Sheffield, trying to find ways to make a living following the closure of the steel mill where they used to work in Sheffield. Their rather unconventional solution takes their families and community by surprise, leading to rising tensions, family feuds and more along the way. It paints a vivid picture of the impact of unemployment on communities, and offering up comic genius and superb performances from the cast which stars Robert Carlyle, Tom Wilkinson and Mark Addy.
All our film screenings will be following the very latest government guidance on Covid-19 safety, and as new announcements are made we will ensure you are kept up to date with the latest guidance for attending our screenings.
Please respect others and maintain social distancing wherever possible.
Film screenings take place at The Sydenham Centre, 44a Sydenham Road, SE26 5QX. Doors open 7pm, Film Screening starts 7.30pm.
Refreshments and bar are available at the venue.