Archived on 6/5/2022
Upholstery Cleaner Recommendations

RachaelDunlop
30 Oct '16
Can someone recommend a local company to shampoo a couple of sofas?

RachaelDunlop
17 Jan '18
Anyone? I'm still sitting on grubby sofas here…

topofthehill
17 Jan '18
There is a Company that puts leaflets through doors about every 2 to 3 months with reduced prices when they are in the area. I have used them two or three times and have no complaints.
Unfortunately, I can't remember their name and the last leaflet was thrown out.
Their leaflets are blue and white with usual and sale prices.
Next time I get one I'll post details, or they may leaflet your area before then.

GillB
17 Jan '18
Hi Rachel, we have used Arc Cleaning services on many occasions. It's a small company, run by a man called Angus. Call 0208 289 1508. He's also very reasonable price wise.

Pea
21 Nov '18
I had a look on here as we have a Loaf sofa but during building work something was spilt and while the sofa was in a room freshly plastered it grew a damp stain. Unfortunately the companies recommended here couldn't deal with mould. I was gutted as the sofa is not that old and was an investment.
I ended up using a company called Safeclean North London who were great. Recommended by Loaf and did a really thorough job and fixed the stain. Couldn't recommend enough.
Thought I'd share as they do sofas/ beds / carpets etc. Not the cheapest but you seem to get what you pay for- he was here nearly 3 hours and charged £120.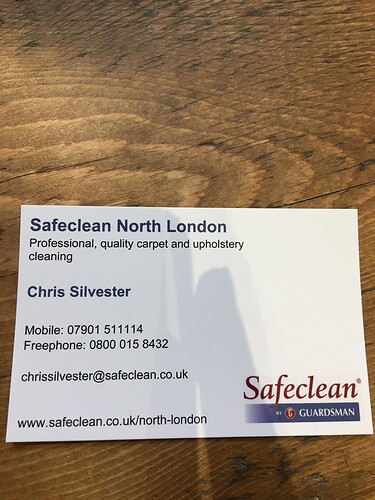 Gillipops
24 Mar '20
Hi
These guys are really great. They came round to both my mums and my properties and went over and above what they needed to do. So earnest and hard working…and still very much open for business during this crisis:-
"Regency Cleaning Services are specialist in-situ cleaners of carpets, rugs, upholstery and curtains across London and the South East. We also offer anti-bacterial treatments for soft furnishings as well as a sanitisation service for mattresses, and even pressure washing for patios, driveways etc"
SIMON HORN, Director
Tel : 03300 500 350
Email : simon.horn@regencycleaningservices.co.uk
Web : www.regencycleaningservices.co.uk