Archived on 6/5/2022
Pizzarte


bluefern
1 Jun '18
ANOTHER ONE?!?! Do they get bulk discount on tomato sauce if they're located in HOP?!?! There must be a reason for this !!

GillB
1 Jun '18
That's not actually Honor Oak Park is it? I agre though it's becoming like Pizza Palace


Irmani_Smallwood
1 Jun '18
My kingdom for a decent Mexican place!!!
AmandaSE23
2 Jun '18
I'm still trying to work round local pizza places and we do love the Chandos. As long as it's a proper restaurant. Last thing that stretch needs is another take away with mopeds roaring up & down…

Dodge
2 Jun '18
That used to be a curry house many years ago

Matthew_Benney
4 Jun '18
I think we have pizza covered already


Foresthillnick
4 Jun '18
I think pizza is popular as it is relatively easy to setup for and attracts a wide crowd - difficult to do properly but the kitchen setup seems to be quite simple. See the Chandos - tiny little kitchen but it manages to make lots of great pizza.
This is pretty local to me so I am glad to see it put to use but whether it will tempt people away from the established places nearby must be in doubt. There is so much nearby residential that it must be possible to make it a going concern but I'd love to see something like a Japanese\Korean\Malaysian or similar but that's just my taste.

Daffodil
4 Jun '18
That little parade of shops is looking quite sad so I would be happy to see anything there! The newsagents closed a while ago; Small World Coffee has been closed every time I have walked past recently; the motorbike shop seems to have closed too.


YorkshireLad
2 Aug '18
Bike shop is reopening from last weekend's activity. Agree there's a need for a supermarket I think.

Diane_Marie_Mcgrath
15 Sep '18
There's defo no mopeds and slices of pizza on sale in the new restaurant planned


Hi there I'm Diana my partner is Alberto who will be opening up the restaurant with katia & her partner Roman we have between us 3 children Nicholas Natalie and Peter

️
We are two young families who have more than 30+ years experience in the pizza industry and Alberto being Itaiian should help


we all actually meet each other many years ago within our work environment, jumping ahead & a few kids later, we thought times about right to at least try something we've always wanted to do … hence the restaurant !!!
We hopefully would like to achieve to run an authentic Italian pizza restaurant, that will be a family friendly atmosphere for all to enjoy !!!
It's a long road and learning a lot about patience permits planning & legal stuff, as so many legal matters & working with the community police etc etc but getting there slowly…
Please feel free to pop in ask any questions & have any concerns


Have a look around & who knows what will happen!! … hopefully we will get to know the locals & be known as a friendly family run place to relax and enjoy x

georginab80
15 Sep '18
Can't wait to visit once you are open! We are just down the toad and need something like this that we can easily walk to. Excellent!

Stammers
15 Sep '18
I hope you will have an Italian coffee machine!

aitch123
15 Sep '18
Only a couple of streets away, will definitely visit when open. Good luck!

Alma
16 Sep '18
Hi Diana, great news about the restaurant. Do you have a name already and a planned open day?

Daffodil
16 Sep '18
Hi Diana, welcome, we are just around the corner so happy to see something opening there. As well as pizza it would be great if there was a couple of salad / pasta options too - a classic bolognese sauce goes down well with most children I know!
Glad to see the bike shop has reopened (under a different name) so it's looking a bit better now.

Diane_Marie_Mcgrath
17 Sep '18
Hi Daffodil ( loving ur name )
I can defo confirm pasta & salads will be on the menu… the variety will be adjusted according to demand


all feed back will be taken on board and menu will be adjusted according to needs … of course at the being we have no idea of what's going to be the demand so will be trail and error … so please bear with us, again feedback and suggestions are more than welcome as again we will be finding or feet …so to speak !!!

Diane_Marie_Mcgrath
17 Sep '18
We had an open day for 2 months ago


It's amazing how time consuming each planning and job can take !!!
Mid October is the target at the moment … yes we have the name but think pull have to keep looking out for the sign



Diane_Marie_Mcgrath
17 Sep '18
Thank u


Alma
17 Sep '18
Thanks Diana. Wishing you all the best in the final hurdles.

Matthew_Benney
18 Sep '18
I wish you luck, but the absolute last thing this area needs is more pizza.

wattsicle
19 Sep '18
Best of luck, pleased to see a new business coming to the parade- hopefully your presence will encourage other business into the vacant premises next door. All the best! X

Bryony
12 Oct '18
Went past on the bus this morning and saw they have fitted their sign 'Pizzarte'
I hope they do real Italian gelato for pudding! I can't seem to find any really good gelato despite so many Italian restaurants nearby!

Matthew_Benney
15 Oct '18
Sorbets and gelatos in Le Querce are great. All home made and some really interesting flavours.

CHfigaro
15 Oct '18
We'll definitely come and try your restaurant out once it's open. Best of luck!

wattsicle
4 Nov '18
Lots of progress, it's looking good guys. Good luck x

Recko
12 Nov '18
My partner and I checked out PizzArte last night. The proprietors welcomed us warmly and the pizza tastes authentic and delicious: thin crust with high level ingredients (parma ham, spicy sausage, rocket…). We ordered a delicious bottle of chianti (might go for a cheaper option next time) and a ceaser side salad with juicy anchovies and a tangy garlicky sauce.
While I agree that SE23 already has some excellent pizza restaurants, this part of Brockley Rise is not exactly blessed with culinary or retail delights. For those of us living nearby PizzArte offers a cozy and appealing local option. The menu has Italian pasta and salad dishes and desserts. I get the idea that they are playing to their strengths and sticking to classics. I wish the friendly proprietors well, and will be back!

Dave
12 Nov '18
I walked past this morning and it looks really smart. We're very local and hoping it's good (and family-friendly…)

Recko
12 Nov '18
I think it will be a great addition to the Neighborhood- friendly, welcoming and very professionally-run. Families will definitely appreciates the warm, clean ambience.

Diane_Marie_Mcgrath
12 Nov '18
Feeling all emotional reading these lovely comments thank you so much

Between us we have three children 4,5 & 25 years old … yes that's right I've not added 25 by mistake lol …I've a twenty year gap !!!
We really do have first hand experience with kids, specially trying to keep them entertained whilst dining out …
Of course all kids welcome.
We have colouring for now but hoping to have a little toy box or even a little child friendly play area … just bare with us.
Thank u to everyone that's popped in to wish us luck, so hoping to have some childcare sorted so I can come in and mingle with u all when you come in …


but be warned I can talk the legs of u



x

Daffodil
12 Nov '18
Welcome to the area, I walked past today and had a look at the menu, looks good! I am hoping to pop in soon as I live very close by


Do you have a website or Facebook etc?

honoracorn
12 Nov '18
Great news - I have always considered myself a bit of Pizzartist.


angelibelli
13 Nov '18
So excited for you all, looking forward to coming in with my family to taste your culinary delights. Good to hear you are child friendly, so many places in the area are not.
Congratulations for your new venture


angelibelli
14 Nov '18
I was also very curious so took my family there last night. Lovely place, the pizza was fabulous. I'm so please they have opened and really do wish them well on this new venture. Will definitely be back, its great to have a new local. Looking forward to seeing how the menu develops, and I hope to see more pasta choices soon.

anon5422159
14 Nov '18
It's best practice to check the profile of reviewers. Are they verified? If not, have they been active in the forum, in other areas and topics, before posting the review? A first time user who reviews a company may not be a local resident, but may represent the company or its competition. While this does not mean the review is not genuine, it does call into question the reliability of the recommendation.

Anotherjohn
14 Nov '18
Can you stop posting these photos please - they're driving my salivary glands crazy!

Recko
14 Nov '18
Agree that fantastic though the pizza is some more pasta options would be good too. Cabonata? Arabiata? Even the classic bolognese would get my vote.

LJM
14 Nov '18
Does anyone know if they offer gluten free bases for the pizzas? Also is there a menu available online - seen one on deliveroo but know this doesn't always include everything available in the restaurant?

Natasha_H
15 Nov '18
Hello! I personally have known about this group since I moved to SE23 over a year ago (Elsinore Rd) but have only been spurred into joining yesterday to review this place as it seems they are yet to have a tripadvisor, Facebook or google account active for me to post about it.

Daffodil
15 Nov '18
I went a couple of nights ago and had a very nice spinach & ricotta cannelloni. It all tasted very fresh. Agree more pasta choices would be good. Great to have a nice restaurant so close.

Bravosmotorcycles
17 Nov '18
We are from Bravos Motorcycles around the corner from Pizzarte and we've been paying attention on how much effort and passion these people have been putting into this restaurant. We really want our neighbours to succeed and help bring life to this forgot corner. So we tried them last night and it surpass our expectations. Best authentic Italian ingredients, friendly service at reasonable price. Godspeed guys!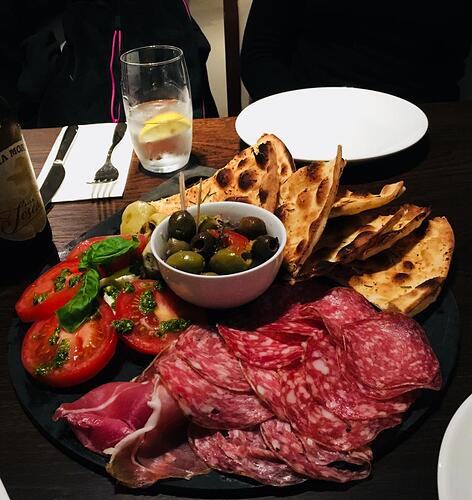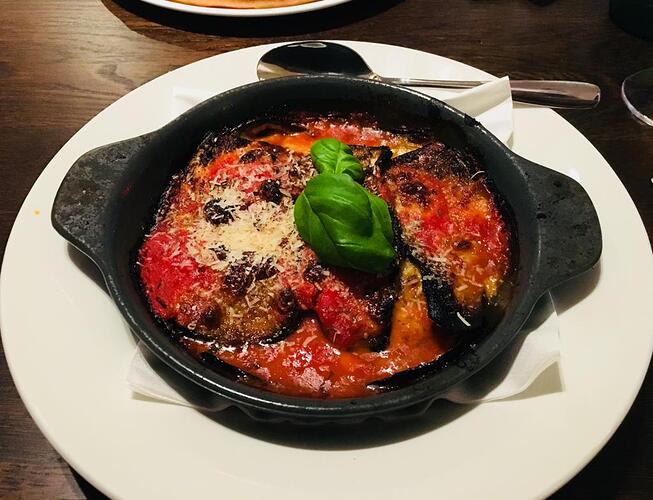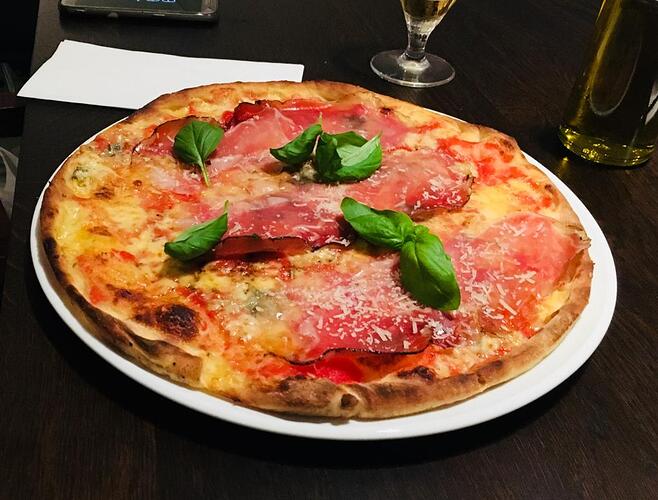 Lesley_Wilkins
17 Nov '18
Just had our first dinner here. Great to have a local pizza restaurant - attentive staff and nice pizzas. Would have liked the base to be more crispy though

Pauline
19 Nov '18
I don't like pizza (yes, weird) but the other food is right up.my street NOM NOM

oakr
19 Nov '18
I did try to eat there on Saturday with the family, a bit after 6pm, and it was full bar a couple of tables for 2, which is a good sign (though not for us!).
Will try again in the near future and report back.

Dave_Benson
19 Nov '18
Sunday night was quiet, only 3 or 4 other tables when we went in about 7.30. Excellent antipasti plate and delicious pizza, toppings almost to the edge so no excess crust, Great coffee and a shot of limoncello to finish, couldn't manage the tiramisou as well so will have to go back. Great addition to the area, those people that moaned about another pizza place should go along. Very friendly and welcoming, good service, nice atmosphere.

fran
19 Nov '18
Can anyone share a pic of the menu? Or do they have a website I just can't find?

Pauline
19 Nov '18
What worries me is that we have quite a few pizza places to eat now, and can they all survive?
My prefference is Bona @BOnA_Pizza but I don't often eat pizza (weirdo I know

)
But the cotto ham and field mushroom combo is always a winner for me by them.
I would love it if new food establishments would offer something different like authentic Spanish Tapas, authentic Italian home cooking. I love veal piccata but can't get it quite right myself, traditional Mexican would alsp be a winner for me, thats not fajitas and tortillas BTW

Getting hungry now, ahh well toast and tea before bed

LeeHC
20 Nov '18
Hopefully pizzarte is far enough away they wont eat into each others trade too much- that side of forest hill is a bit under-served.
Absolutely yes to a Mexican place however- that would be awesome!

Sherwood
22 Nov '18
I walked past on Tuesday evening. It looked very attractive with lots of lights. But there was no-one in there.


fran
22 Nov '18
Tuesday was such horrible weather though. I had actually planned to go on Tuesday but couldn't face the walk in the rain!

YorkshireLad
24 Nov '18
We went this evening and were very impressed. Great, friendly service. They've done it up really nice too. Food was excellent and we would recommend the tiramisu for sweet. Looks like they have collection and someone from uber or deliveroo arrived too.
Excellent to see a restaurant at that part of town. Will be back soon. Preaching to the converted but let's support local businesses!

Eneida_Poveda
26 Nov '18
Hi guys! I have notice this Pizzeria and looking at the picture…seems very delicious!
Do you know if they are open today Monday as well?
Thank you

hillwalker
26 Nov '18
They looked like it when I walked past earlier

watchman45
30 Nov '18
Well tried it tonight 30/11/18 ,service excellent food good room for improvement nothing serious,they use bought in food don't make their own dough no sourdough so will reserve judgment till ther up fully and running out of ten 6

karolinam
1 Dec '18
Hi Diane
Congrats on the opening! My partner and I went to PizzArte on a week night and it was great to see the place filling up from 8pm onwards. We both ordered pizza+wine and loved it. After London being taken over by a sourdough pizza craze it's so nice to have an authentic thin crust pizza with just the right amount of delicious ingredients on it. My aubergine + goat's cheese was a winner!
We are definitely coming back soon, but I had a question/suggestion I hope you'd consider…
I was wondering if you'd consider curating a more bespoke playlist for the place? It's such an important part of the experience and it would make a huge difference. We would have stayed for another glass of wine had there been some relaxing/relevant music playing in place of the UK top 50 charts. Jazz, lounge, chill, there's so much of great Italian music that would do the trick and I'm sure people would stick around longer because your food, service and drinks are so delightful! There are plenty of options pre-built online depending whether you use a service like Spotify or YouTube.
Congrats again and thank you for opening PizzArte for all of us to enjoy!
See you soon


Diane_Marie_Mcgrath
1 Dec '18
Thank you so glad you enjoyed your visit…
yes you have made a good point unfortunately We've had a few hickups concerning the music:(
We are awaiting for the electrician to finish off wiring the system we have in place as yet it's not up and running :(.
I've beenPlaying from my beach playlist from my personal music …u may have heard Ed Sheehan a lot !!!

. I'll be working tonight and will update and create an alternative playlist … thank you for your feedback x

karolinam
1 Dec '18
Thank you so much! Look forward to hearing the new sounds next time we visit


AndyS
2 Dec '18
PizzArte gets a big thumbs up

from me!
AmandaSE23
3 Dec '18
Can anyone confirm their opening days/ hours?

Diane_Marie_Mcgrath
16 Dec '18
Oops seems there's an error on the Facebook page … apologies
Opening times are Sunday to Thursday we are open until 10 o'clock.


Friday & saturaday we are open until 11 o'clock


To add also a thank you for everyone that has visited



Diane_Marie_Mcgrath
16 Dec '18
As a small family business we have created a menu that we hope has covered people's needs, within the understanding that being the beginning we have created we a trail and error menu.
With feed back from our customers
We do hope to cover needs IE gluten free and dairy free dishes & more pasta dishes in the near future …

Diane_Marie_Mcgrath
16 Dec '18
Thank you for taking the time to highlight us with your feedback x

AndyS
16 Dec '18
My pleasure.
Do you do takeaway?

AndyS
16 Dec '18
If you can update your Facebook page I'll repost this image to make it easier for everyone on here.
AmandaSE23
23 Dec '18
Good pizza, good coffee, good lunchtime deal. GREAT service. Look forward to many more 2019 visits.
Could PizzArte confirm festive opening hours too?

Diane_Marie_Mcgrath
24 Dec '18
We are indeed open 7 days a week
Mon to Sunday 11 until 10
&
Friday & saturaday we are open until 11




FESTIVEOPENING HOURS


CHRISTMAS EVE 11 til 9
CLOSED CHRISTMAS DAY
BOXING DAY 11 til 9
New Years 11 til 10
New Year's Day 11 til 10
We will be back to normal working hours, from the 2nd Sunday to Thursday 11 til 10
Friday & saturaday 11 til 11






merryxmas everyone enjoy





Diane_Marie_Mcgrath
24 Dec '18
Hi Andy merry Xmas



Yes we do takeaway


You can either call in your order and then collect, Come in and order
Or you can use deliveroo x

Warren69
29 Dec '18
As i live very local to this restaurant i thought i would finally give it a try. I saw that it was available on Deliveroo but because of my close proximity i decided to phone in an order and collect myself. I was not disappointed. After experiencing the worst ever pizza from Domino;s (New Cross) a few weeks ago, I had one of the best pizza takeaways ever from Pizzarte. I ordered the Quattro Salumi and it was very tasty and pretty authentic.
Top tip: ignore your chain restaurants like Domino's and support your local independent ones like Pizzarte.


Baboonery
2 Jan '19
Yep, we (finally) ate here after arriving back from our Xmas with family on Saturday night - nice thin pizza and a wide range of toppings for everyone. Great to have it at the top of our road and hope it does well.

jvabur
7 Jan '19
Visited for the first time today - really reasonable lunch special, and very tasty food. I took my laptop to get a bit of work done and didn't feel rushed to leave as soon as I'd finished my lunch. Glad to have something like this in this part of SE23!

anon26043310
12 Jan '19
I don't think they need it because they've had lots of positive views already but i just wanted to echo those comments and say what a lovely time we had there yesterday.
Four of us went Friday night and i was pleased to see it was busy. We were surprised at how pretty it looked! Food was great, but the service is what will make us come back. Everyone was friendly and welcoming and they even gave us complimentary shots of limencello at the end!
From speaking to a member of staff, they have plans of having an outdoor eating area in the summer which sounds lovely!

HannahM
12 Jan '19
We went this evening - very good thin crust pizzas, my slow roasted aubergine one was lovely. As we are not drinking this month we didn't try the wine list but were pleased to see Orange Crodino on the menu - a very good non alcoholic aperitif and a welcome change from lemonade!
Service was good and very friendly.

Pea
7 Feb '19
Went here with a group of friends last night. Am a bit late to the party but had a great time.
The interior is much nicer inside than you expect- I'm not sure from the outside you can see how warm cosy yet spacious it is.
Food was great and service lovely.
Will definitely try on a weekend with toddlers as they have lots of space, many high chairs and even toys.

oakr
7 Feb '19
I've been a couple of times now with the kids - I really like it.
Pizza is always a subject of much debate but I really like these, and the staff are very friendly which makes the experience all the better.

PV
1 Jun '19
Had three pizzas from pizzarte via deliveroo yesterday, really good and a decent price, will be ordering again soon!

oakr
30 Oct '20
Thought I'd give Pizzarte another mention. We've been twice in the last month or so with the kids. Always great friendly service and food, but one thing this place was build for pre-covid was social distancing - it's always had tons of room between tables. They do takeaway of course but if you want somewhere to sit inside, space wise this will be up there.

fran
24 Dec '20
I just had Pizzarte pizzas for my Xmas eve lunch (delivered via deliveroo). They were delicious! Kids have said it's their favourite pizza in the local area. High praise. Recommend!