Insanely jealous!! I have had two cherry tomatoes so far. However, the flavour was out of this world.
Hey! Now that I've filled all available space outside with plants, can someone recommend somewhere fairly local to get indoor plants? B&Q in Bell Green and Alexandra Nurseries are great but they are mainly outdoor. Thanks!
HI
Thanks for the mention! Yes we sell indoor plants and have just had a nice delivery this week- pictures on twitter and instagram if you'd like to look first.
Shannons Garden Centre
On the basis of its great reviews I've got a hot compost bin now and early signs are that it will make a dramatic difference. After filling about a quarter full inc some already warm grass cuttings it reached over 50 degrees in a day and looks like it will produce compost very quickly indeed and I should be able to dispense with a couple of my normal bins. image|375x500
Can I ask where you got it and an idea of cost?
Sure. All details here. As I said originally upfront cost is high. But it's proving to be fun as I compulsively check the temperature every day and over time we should get bags and bags of good quality compost. https://www.hotbincomposting.com/
Looks good. Do you know what constitutes the "bulking agent" they refer to? Do you have to purchase it from them, or can you substitute something you already have? Is the bin sealed - would you be confident of it being rat-proof if you added cooked food waste?
The bulking agent to aid airflow is just wood chippings or twigs. They supply a bag to get started, but any shredded bark or woody stuff from the garden etc would do. and I have access to a free supply so will just collect a bucket full every now and then. A handful to every kitchen caddy of waste. You also add cardboard and or shredded paper to absorb the water contained in plant and veg matter. Easy to find cardboard and I'm working my way thru shredding old bank statements. I'm only in putting garden waste and vegetable matter to start. I'll let it settle in before seeing about adding cooked waste eg chicken bones - we have only extremely small quantities of cooked waste anyway.
It's a bit like having something living that needs feeding every week or so - like keeping a sourdough starter going.
It is a sealed unit with a thick base and sits on concrete so claimed to be quite rat proof.
Have been away for 2.5 weeks so not sure what I will find later tonight or tomorrow morning- I suspect a lot of very large courgettes and beans, and hopefully some ripe tomatoes!
Our courgettes went from courgette to Godzilla in a couple of days so take care

Well I went for a quick look this morning and it's like a jungle! I don't think my neighbour picked anything to eat so I think I have literally a wheelbarrow load of veg and I'm not sure how edible most of it is! Did get a load of plums though - will head back later and post a photo if the rest!
Need to tie up lots of tom plants that have buckled a bit under fruit load and growth!
Now you are just showing off

So this was the courgette / squash collection- not grown any of the strange looking squash / courgette (now marrows some of them).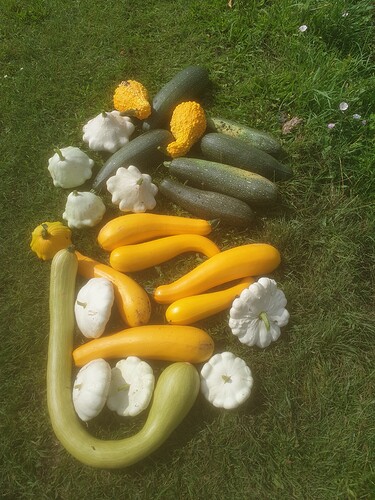 1.5 bags of both french beans and cucumbers, quite a few tomatoes though all small types, as well as a few bo us strawberries and more plums.
I needed the wheelbarrow plus another trip!
All in pretty happy just a shame I was not here to get them when they were sweeter - loads more to come. Might need to get an additional freezer…
Lots and lots of weeding to do
That is a superb haul. Roast squash, sauteed squash and curried squash. Mmmmm🤤
That looks great - I am going to need to be making stuff this weekend I think!
I always love the different shapes and colours you see from people growing their own stuff.
I can't believe how may ripe tomatoes you have - have you cut them off at the top to refocus the energy? Most of mine are still not ripe?
Most important question - how did you grow the beer can!

Nice haul of squash there @oakr!
Toms - to get early toms you have to start eary plus I always grow a few varieties that will fruit and crop early (Red Alert and Sungold). The keep picking the side points out to focus growth on one stem (actually Red Alert are bush toms!). Only once they tall enough do I stop them by pinching the top out - say 4-6 trusses depending on the type. I also have loads of plants, around 50, so I get a decent haul. However they have slowed right down with the cold weather recently…
Thanks Nick - will hopefully have a greenhouse or poly tunnel of sorts next year to give me a head start. Think I need to trim off the tops of the plants to give them a bit more focus now - all the side buts were done (bar when I was away when they seem to have gone crazy with leaf growth).
These were the cucumbers and beans etc - only got about 4 small ones last year, got at least 40 already this year!