Have been away for 2.5 weeks so not sure what I will find later tonight or tomorrow morning- I suspect a lot of very large courgettes and beans, and hopefully some ripe tomatoes!
Our courgettes went from courgette to Godzilla in a couple of days so take care

Well I went for a quick look this morning and it's like a jungle! I don't think my neighbour picked anything to eat so I think I have literally a wheelbarrow load of veg and I'm not sure how edible most of it is! Did get a load of plums though - will head back later and post a photo if the rest!
Need to tie up lots of tom plants that have buckled a bit under fruit load and growth!
Now you are just showing off

So this was the courgette / squash collection- not grown any of the strange looking squash / courgette (now marrows some of them).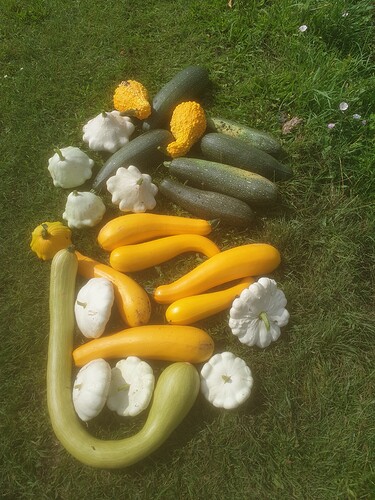 1.5 bags of both french beans and cucumbers, quite a few tomatoes though all small types, as well as a few bo us strawberries and more plums.
I needed the wheelbarrow plus another trip!
All in pretty happy just a shame I was not here to get them when they were sweeter - loads more to come. Might need to get an additional freezer…
Lots and lots of weeding to do
That is a superb haul. Roast squash, sauteed squash and curried squash. Mmmmm🤤
That looks great - I am going to need to be making stuff this weekend I think!
I always love the different shapes and colours you see from people growing their own stuff.
I can't believe how may ripe tomatoes you have - have you cut them off at the top to refocus the energy? Most of mine are still not ripe?
Most important question - how did you grow the beer can!

Nice haul of squash there @oakr!
Toms - to get early toms you have to start eary plus I always grow a few varieties that will fruit and crop early (Red Alert and Sungold). The keep picking the side points out to focus growth on one stem (actually Red Alert are bush toms!). Only once they tall enough do I stop them by pinching the top out - say 4-6 trusses depending on the type. I also have loads of plants, around 50, so I get a decent haul. However they have slowed right down with the cold weather recently…
Thanks Nick - will hopefully have a greenhouse or poly tunnel of sorts next year to give me a head start. Think I need to trim off the tops of the plants to give them a bit more focus now - all the side buts were done (bar when I was away when they seem to have gone crazy with leaf growth).
These were the cucumbers and beans etc - only got about 4 small ones last year, got at least 40 already this year!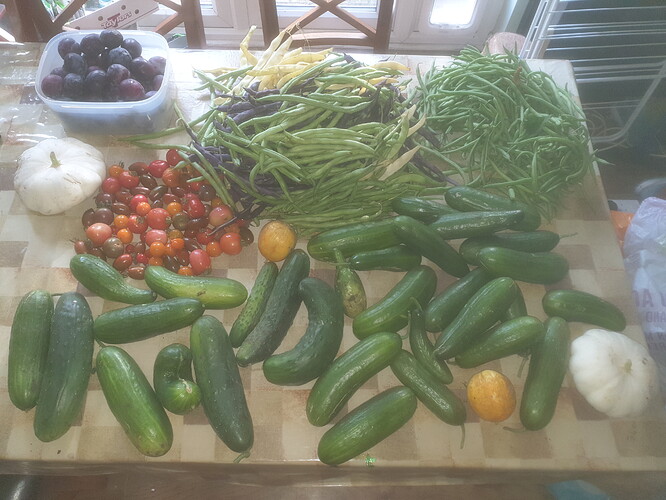 Ah - I can see why you didn't want any more cucs!
Any of the regulars on this thread need another compost bin? Following my foray into hot composting this one is now spare.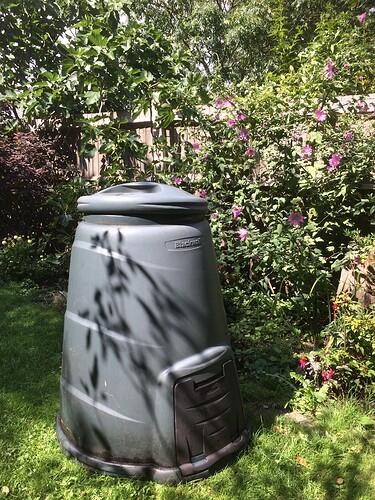 Thanks for offering but I am ok myself.
In good news harvested my first Turks Turban Squash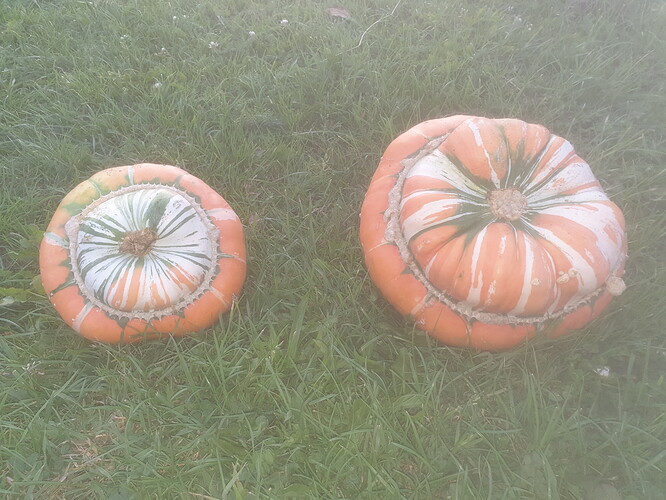 In worse news for me @Cara @Foresthillnick and possibly anyone growing outdoor tomatoes blight appears to have hit all over out allotment- I had it on at least 5 of my plants and I guess the rest will follow soon. One lady has all her plants infested

Not sure if there is anything to do - maybe harvest the green ones and try and ripen inside or make lots of chutney before they get infected also. Anyone have any experience with what to do?
My RHS book of Fruit and Veg gardening suggests a copper based fungicide. It also suggests a more drastic approach which involves deep digging out the whole plant and burning.
It is a complete bugger…
Once you have it there is little you can do and this time of year is favourite.
Preventative spraying with Copper Sulphate (Bordeaux Mixture) was possible but you cant get it now. I actually have some left still but even then I still shouldn't use it.
There are other copper based fungicides but they really only slow down the disease once you have it…
Green tomato chutney is good though!
I better go and check Deb's plants later.
I'll head up and check after work - we have a lot of ground to make up as let the weeds get out of control but was at least happy some tomatoes were still doing ok - maybe not anymore, Oh well at least there's the potatoes!
Thanks @Londondrz and @Foresthillnick - I'll pop back tomorrow morning before work and see how things are going! I'm genuinely gutted!
@Cara hopefully yours will still be good!
I've enquired about getting some chickens and may well proceed with that if I can assure myself that I can get down each morning to feed them and change water etc, which hopefully I will.
Happy to help out with chickens mate - if you need it.
They make great recyclers for veg you don't want…
Thanks Nick - I'll give you a shout when I go forwards with it (well if). Certainly be good to have something to do with all these overgrown courgettes!
We had marrow courgettes in a lemon cake today and in spag bols!