Sourdough focaccia at the weekend was a big success - highly recommend for an alternative sourdough based bake!
Yum

there is some seriously good baking going on around here. great to see.
the bar keeps getting higher
The bar gets higher and the waistlines get bigger. I like the random sweets on top, artfully scattered.
Nice texture. Do you use a touch of vinegar to help the eggs hold together in the pan ?
Yes I do add vinegar- always helps especially if the eggs are not the very freshest.
I feel a bit embarrassed to post it amongst other folk's amazing looking loaves, but here's the little wholemeal I made today.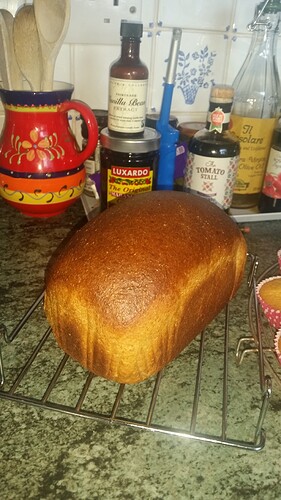 Actually that looks amazing to me! Great backdrop too!
Oh the messy kitchen. Oh dear.
don't hesitate - your loaves have looked great - the nice thing about this thread is that we are I hope relaxed about our baking, friendly and interested to have a look at and admire what each other do, while willing to share tips/recipes etc with each other if anyone asks.
The moment it breaks out into a competition I, for one, am off!
That looks lovely - looks like it got a great oven bounce…