Good news: the cave is now caged. Looks harder to fall into @Foresthillnick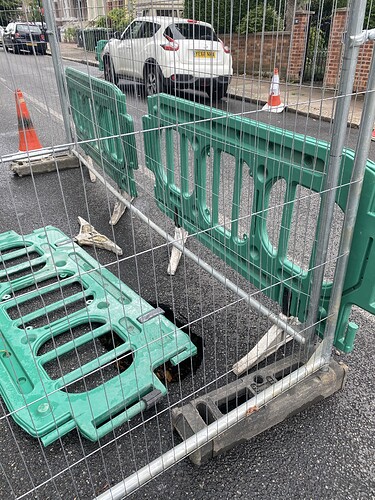 Bad news:
Someone has moved the Road closed sign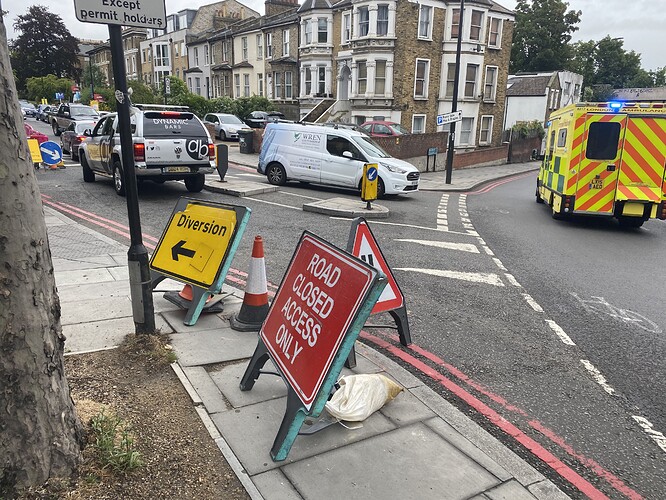 Traffic is getting stuck by the pavement repairs and this is backing traffic up and out onto the S Circ. Idiots.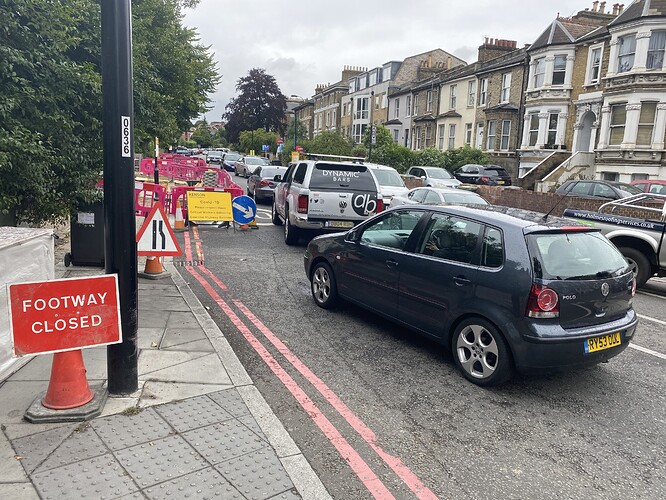 I assume the No Parking signs were supposed to cover the works period but haven't been extended as they ended on June 30th.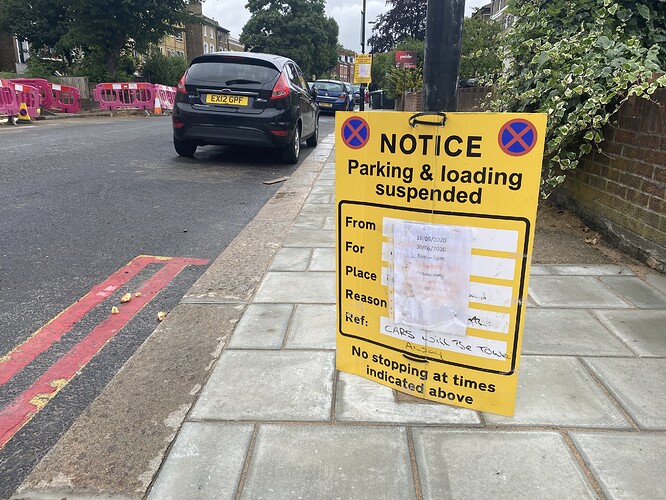 And finally there's a Road Closed sign with Diversion up at Ewelme Road - I watched 3 people stop, think about it and then just keep going.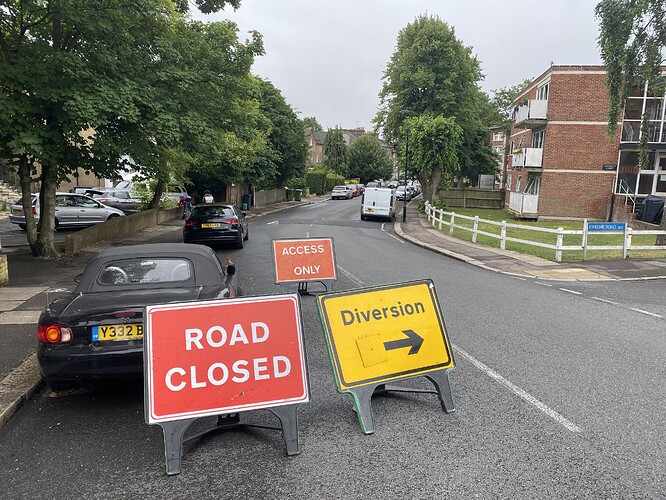 Some boxes have been ticked, everyone can tell themselves that they've done their bit, moved it out of their in-tray. The reality is that the road remains open to two way traffic. The tick-box bureaucratic going-through-the-motions style of governance seems wholly inappropriate to a pandemic situation, and a dereliction of the Council's duty of care.
Hi all,
Thanks for your comments, feedback, and the photos (they are helpful, and I have been passing them on to officers).
I understand that Thames Water will now be taking over the site (today), after which they will begin the repair works. This sort of repair usually requires a large excavation and will likely require the whole carriageway being fenced off, in which case it won't be possible to drive through or around the site.
I will get in touch with Thames Water separately about their plans, and timelines.
Sophie
Last time there were roadworks and it was barriered off cars just mounted the pavements and drove down them instead all week. I won't hold my breath that this won't happen again.
It's not a big deal as the section of Devonshire Road to be worked on can be bypassed easily using Woodcombe Crescent and Ewelme Road.
You'd think! But that's the current diversion in place which people are also choosing to ignore. But we'll see…
Meanwhile, the pavement refurb will continue without an effective road closure?
Does anyone know the process that goes through for approving the pavement?
There wasn't any residents notification, it has massively over run the parking restrictions and the pavement they are putting in doesn't match the rear of the road (or any nearby).
They are probably having to work more slowly as the Council has not closed the road for them.
Good question: the section they are doing is in the Forest Hill conservation area; did Lewisham's conservation officers get to approve the small concrete blocks as suitable for the area? They are not the traditional style of London pavement.
Just to be clear, there are two sites. One is the cavity that opened up which we understand Thames Water will deal with in due course.
The second site is the continuing refurbishment of the Devonshire Road pavement. This work is restricting the width of available pavement at a time when all advice is to increase space for pedestrians. This is probably one of two reasons why there was a decision to close the road, the other reason being the safety of the crew doing the works. In case this has not yet been understood by anyone - although there are some notices about a road closure haphazardly placed near the works, there is still no road closure. If Highways Dept or Environmental Health decided the road should be closed, then why has that not been done? If it has been decided that the road does not need closing, then why are there "road closed" notices in the vicinity? The Council cannot have it both ways - either the road should be closed or it shouldn't.
There seems to be no hesitation about closing pedestrian space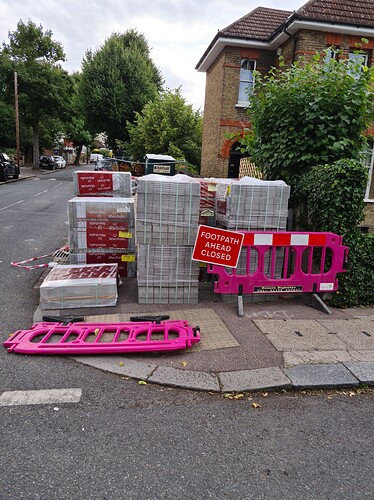 Because none of Lewisham Council lives on Devonshire. They only close roads where the councillors live (or deputy mayors)
We're another week into the pavement refurbishment and still no road closure, despite the road closure notices.
On the very long thread titled Road Closures, Councillor Gibbons writes:
"Covid-19 has not gone away and social distancing remains necessary … we still need to create more space for cyclists and pedestrians. The remit and need remains."
I couldn't agree more, so why is there a total disconnect between the Councillor's avowed policy and his administration's actions on the ground? On the ground, it's the same old default position, that it's of no consequence to block pavements, just as long as the road traffic is kept flowing - at whatever cost to pedestrians and cyclists.
Councillors, if you are serious please can a road closure be a road closure in fact, and not a couple of notices haphazardly placed that every driver ignores.
The road signs (or lack of) are causing absolute havoc!! There is no diversion sign in place at the Woodcombe crescent junction so cars are going up Devonshire Road. Meanwhile there are diversion signs at the other end, by Ewelme Road junction, positioned in the middle of the road.
People are ignoring these signs as they can see cars from the opposite direction coming up the road so believe these signs to be redundant. This is resulting in cars carrying along Devonshire Road and having to reduce down to single file and back logging the whole road! The council need to sort this out it's very poorly planned and executed and is just causing a headache for residents with the constant car horns and backed up traffic!
They closed the road to incoming traffic the other morning for the big grab lorry so it could take away the old pavement rubble. Then opened it up after the lorry had gone. So maybe just closing it as and when…
When the road was closed last time for major junction improvements. People still thought they could move it and drive through even though it was heavily sealed off & a large uneven road surface to drive over. Or motorbikes just went on pavement, nearly knocking a child over on a scooter one time.
Yes, we know it can be done, so why is it not being done to facilitate safety for pedestrians? (This is not a rhetorical question. I would like our councillors to investigate.) The pavements are narrow, and have been reduced by 50% where the pavement refurbishment is taking place. In some places, bins block the pavement further still to single-file only. Pedestrians have to choose between ignoring social distancing or risk walking in the road! The works crew would also have more space if the road was closed.
Hi, does anyone know when Thames Water are starting the works on the sinkhole in Devonshire Road? It's been over 4 weeks now.
There's a burst water pipe a little further up and they were busy digging up the road last night. Still fixing that.
Fun and games along Devonshire!