Forest Hill Park FC collected 3 points on the road in SCEFL league action with a 3-0 victory over Snodland Town.
FHP started the game brightly and top goal scorer Akin Lawal only took 90 seconds to open the scoring with a superb 15 yard low drive into the bottom corner.
A excellent debut for new striker Brima Daramy and he was very unlucky to not open his account on his first start, all apart from a clearance off the goal line by the Snodland Defence.
Striker Kameiko Pope-Campbell came off the bench along with Tim Beckford & the 2 instantly combined for Pope-Campbell to score a fantastic goal with a near post finish whilst 1 on 1 with the goalkeeper. Pope-Campbell wasn't finished there, and proceeded to kill the game off with his 2nd goal & FHP's 3rd with a 18 yard strike low past the keeper to secure the 3 points.
LINE UP | Edwards, Spedding, Teodorescu, Cella, Kimberley, Jewers, O'Shea, Bishop, Lawal, Daramy, Burtonshaw
SUBS | Pope-Campbell, Beckford, Junior Gomez, Duru, West, Fanner
SCORERS: Lawal, Pope-Campbell x 2
MOM: Nathan Edwards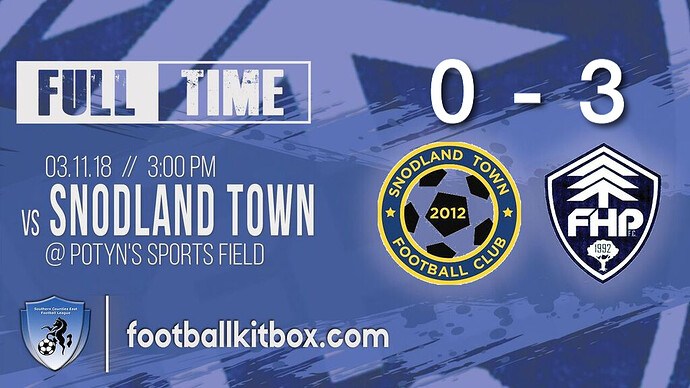 Special mentions to keeper Nathan Edwards who was superb and deserved the clean sheet. James Teodorescu who was making his return from nose surgery only 2 weeks ago & Tom Jewers, both putting in impressive performances on there return from injury.
Jack Spedding who was superb in defence & also in attack, & was backed up by the ever present solid Luke Kimberley.
Kazim Bishop who was unplayable on the day and won every tackle, every battle he went in for, alongside Josh Cella who continued his impresses start in form to the season and both dominated the centre of the pitch.
Skipper Callum O'Shea who was instrumental in every wave of attack & quality & John Burtonshaw who provided oodles of hard work and quality in attack for the team.
Brima Daramy, Akin Lawal, Kameiko Pope-Campbell, Tim Beckford who all caused the Snodland defense untold problems and all delivered great performance & also to David Duru, Justiniano Junior & Kieran Fanner & Duaone West who all was rested on the bench for the SCEFL league challenge cup match on Wednesday evening vs Bridon Ropes.
#FHPFC