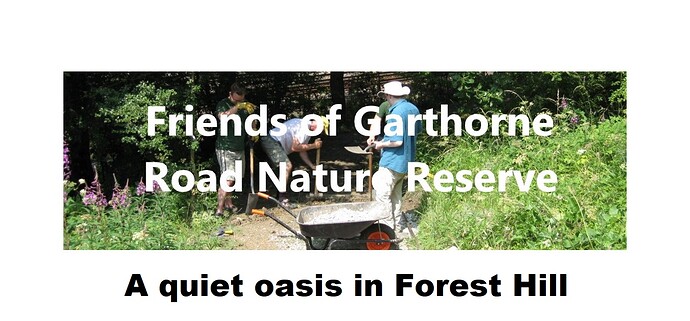 Saturday 19th October 2019
11:00am - 3:30pm
The Friends will continue to be clearing invasive species to allow native species to grow and increase the biodiversity and creating a dead hedge.
All workdays run 11am-3:30pm. Please let us know if you wish to join us so that we can provide sufficient tools for the number of volunteers we are expecting as the main gate is locked due to security and health & safety. We have limited amount of gloves please bring a pair and wear appoirate footwear (No Sandels) .Please bring food and drink if required If you are letting us know at the last minute please text Ernie on 07707023359 as we might not be able to check our emails.
Workday will be cancelled in case of heavy rain and/or strong winds.
If you would like to volunteer or become a committee member please contact us at e-mail: garthorne.reserve@gmail.com
Follow us on :
Website: garthorneroadnaturereserve.com
Facebook: Friends of Garthorne Nature Reserve
Twitter: @garthorneroadnr