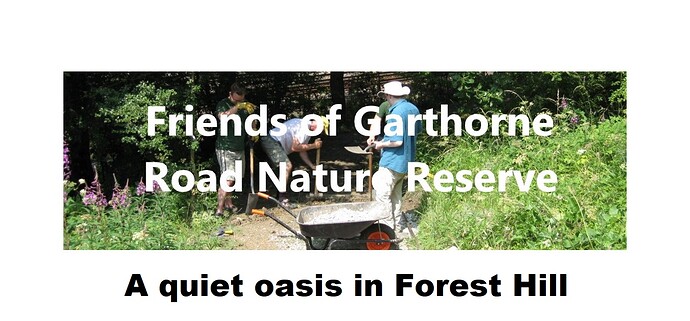 **Conservation Workday**
                          **  Sunday 10th November 2019**
                                    ** 11am - 3:30pm**

The Friends will be constructing steps, handrails and path edging to improve access to parts of the reserve.
What you need to know
All workdays run 11am-3:30pm. Please let us know which sessions you would like to come to so that we can provide sufficient tools and for the number of volunteers we are expecting and please note the gate will be locked to stop unauthorised access, please contact me by text or phone on 07707023359 so we can let you in. If you are letting us know at the last minute please text Ernie (Chair and task days organiser) on the above number.
Please bring food and drink if required. We have gloves in limited supply, please bring gardening gloves if you have them and wear appropriate clothing and footwear for the weather and safety.
This program workdays is subject to change or cancellation at short notice due to weather conditions such as rain or high winds and other matters out of the control of the friends group. Tasks maybe swapped between workdays as necessary.
If you require more information please contact the
Friends of Garthorne Road Nature Reserve
E-mail:garthorne.nature@gmail.com
Website: Garthorne Road Nature Reserve
Facebook: Friends of Garthorne Road Nature Reserve
Twitter: @garthorneroadnr
Lewisham Conservation Officer: jessica.kyle@lewisham.gov.uk