There's lots going on at this year's Halloween fair, on the weekend of the 26th and 27th (last weekend of half term):
Reproduced from https://www.horniman.ac.uk/visit/events/horniman-halloween-fair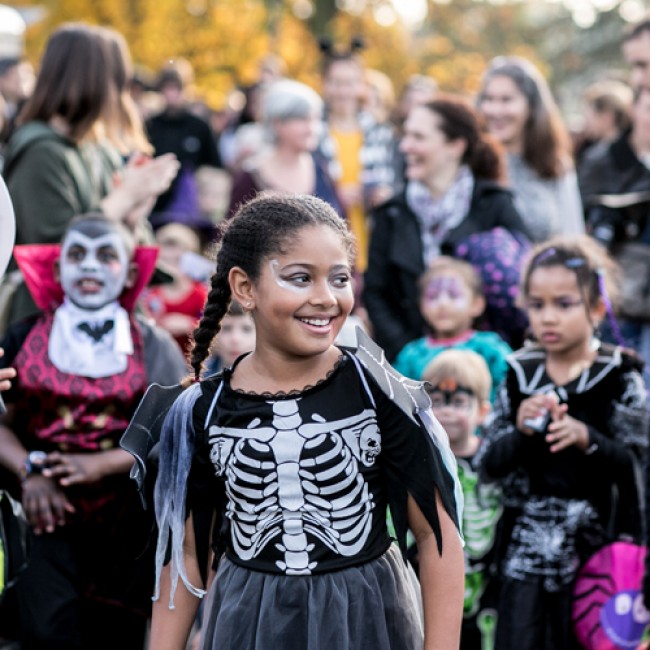 Enjoy the Halloween Fair with the whole family. Meet creepy crawlies, go on our Halloween trail, hear spooky storytelling, and browse for gifts and treats at our arts and crafts markets and food stalls.

Come dressed in your best costume!
The Pied Piper' storytelling performances by Sandal Sticks Theatre
A Little town by a big mountain has a terrible, terrible problem… the town is overrun by rats! There are rats round every corner and rats round every street. The Mayor puts the word out that help is needed and a Pied Piper steps up. He is promised a large sum of money, but the mayor goes back on her work and the Pied Piper seeks revenge.
Saturday and Sunday
Each performance lasts 30 minutes
£5 per child, £2.50 per adult (max two adults per child)
Suitable for families with children aged 3+
Halloween Trail
Follow clues round the Gardens on the Halloween trail and collect your spooky prize.
Saturday and Sunday
10.30am - 4.30pm
£1 per person from the Halloween trail desk outside the Museum entrance
Suitable for families with children ages 3+
Wild Fangs Creepy Creatures Cave
Meet and handle some creepy critters from the Wild Fangs collection including Madagascan Hissing Cockroaches, Emperor Scorpions, a Chiliean Rose Tarantula, Corn Snake and Giant African Millipede!
Saturday and Sunday
10.30am - 1.00pm and 2.00pm - 4.00pm
£3 per person
Pavilion
Not recommended for under 3s. All children must be accompanied by an adult
Halloween Parade with Copperdollar
Join the Halloween Parade through the Gardens led by our scary skeletons and show off your costume!
Saturday and Sunday
12.30pm and 2.30pm
Free
Meet on the Avenue
Suitable for all ages
Arts and Craft Market
Discover handmade products by local designers and makers in the Arts and Crafts market.
Saturday and Sunday
10.30am - 4.30pm
Free
Conservatory
Horniman Market
Our weekly food and produce market selling locally sourced, locally sold vegetables, meat, bread, hot food and much more
Sunday
10am - 4pm
Free
Bandstand Terrace
Facepainting and Balloons
Saturday and Sunday
10.30am - 4.30pm
Various prices
Conservatory Terrace
Teacup Ride and Bouncy Castle
Saturday and Sunday
10.30am - 4.30pm
Various prices
Bandstand Terrace