Continuing the discussion from More wheelie bin annoyance:
Worth moving this into a new topic? It's not "wheelie" about bins any more…
Lewisham has a completely shambolic response to abandoned or illegally parked cars. My own experience has shown that they simply have no idea what they are doing!
We had issues with vehicles being abandoned on our street on a weekly basis a number of years ago. Lewisham took months to remove them. We were advises to call and say that the petrol cap was missing. Collected in two hours. Underhand maybe, effective definitely.
It would be great if one of our Councillors reading this could look into it for us.
Depends on the offence I guess. What sort of illegally parked cars do you mean.?
Londonrz says he paid for parking bays to be reserved for his removals van. But on the day, other vehicles parked in the reserved bays, ignoring the official notices. Why were the offending vehicles not towed?
Londonrz says he was told that Lewisham can't/won't do that. But we all know that other Boroughs do tow away offending vehicles. Could a Councillor respond and make enquiries as to why this wouldn't happen in Lewisham?
Interesting that areas of action include 'estate access roads' andveven pricate estates with the owners permission. Shame Lewisham Homes have not read it?
They were messing around with us, that is for sure.
This Vauxhall hatchback has been at the bottom of Bird-in-Hand Passage, beside the metal fence that borders the railway line and blocking the path that leads to the station, for around six weeks. We've complained to Gallions, who are responsible for most of the flats in Phoenix works, who haven't a clue what to do about it and don't know who it belongs to. We've spoken to the parking control company they use who've told us they can't do anything about it because they can't trace the owner (seriously? They seem pretty good at doing that when it comes to issuing tickets). We know that it's not a public highway so that seems to preclude going to the police or the council but any ideas on how to remove this eyesore would be welcome.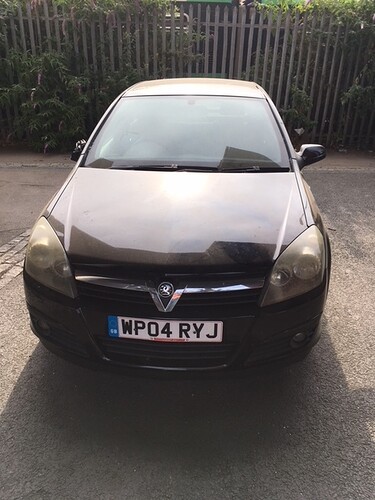 I think you can ask DVLA who owns this vehicle. It may have been stolen and abandoned there.
Also it is illegal to park on a London pavement. there may be an offence being committed.
There is a mini which was abandoned in the flats on Church Vale 3 weeks ago, the police attended as somebody then broke into it smashing the windows (police found baseball bat in bins) yet even though the police know it is there nothing has been done.
If the petrol cap is reported as missing it will be removed ASAP. Just saying

Is there a car made anytime after 1990 that doesn't have the petrol cap attached?
'Duh. Was thinking the cap actually had to be missing to report it as such. Gotcha.
I've just checked and the black Vauxhall is untaxed and has no MOT.
You could report it using the below link, although the chances are it will be clamped rather than removed:
Is the land private? If so then tax and MOT are moot, right?