It looks like it covers a broader area - covering what is now the run of terrace/half-houses to the east of the railway and the Honor Oak Park high street area.
From here
The oak under which the Queen sat was known as 'the oak of honor' or sometimes 'the honored oak' . The earliest detailed map to show this part of London was published by John Rocque in 1746. It shows the forest and the hills clearly. The site of the famous tree is erroneously labelled 'Oak of Arnon'. The surveyor walking round, preparing drawings for the map, probably mis-heard the local when he asked its name.
Aha, thanks. So not only did they spell Honor the US way but they also had Texan accents! Intriguing…
Either that or the locals had some sort of speech impediment!
Thanks for posting the pics though - I love old maps of London esp of areas I know.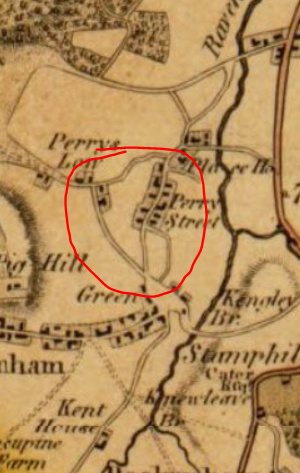 I wonder if this circled bit is Perry Rise (to the west), Sunderland Road (to the east) and Waldram Park Road/South Circular (to the north) as we know them now…
I now from some other early maps (though later this this one) that Sunderland Road is a very old road in the area, possibly one of the first in this developing community.
Where is that Pigg Hill? It seems to be roughly where Mayow Park is located, but I can't think of the hill, unless it is Derby Hill / Taymount Rise but it isn't positioned right.
possibly what is now called Peak Hill, Sydenham
Interesting. There isn't really much of a hill there . This is a basic contour map of the same area with peak hill marked.
@Michael is right in that it looks like Mayow Park should be part of Pigg Hill but it does sound like Peak Hill is Pigg Hill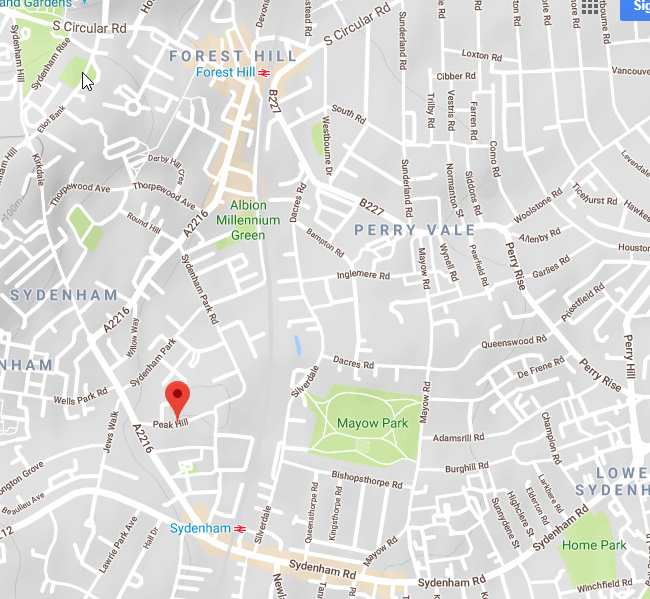 Not a lot coming up on google
From the scale, I think Pigg Hill is closer to the Cobbs Corner end of Sydenham Road. Those two roads that fork immediately below it could be Kirkdale and Westwood Hill. I initially thought it was Mayow Road area too, but not so sure now. See how close it is to Sydenham Wells, and compare with Sydenham Green which I'm assuming is Bell Green?
This is excellent. Thanks for sharing.
Not sure whether I would prefer to live on Pig Hill or Mount Misery (where is that?)

I have always understood that Pig Hill was the original name of Peak Hill…
[Edit] Yes, see John Coulter, Sydenham and Forest Hill Past, p.54]
That makes good sense of it, thanks