Well, it's certainly the first week of Advent. Christmas is actually three weeks away.
As my child points out - why is everybody making such a fuss about Christmas when we are still in the middle of Hanukkah?
And since the Orthodox Christmas doesn't take place until 7th January, can we make sure that all decorations remain up until then, or even better keep them up until Pongal on the 14th January.
Actually, the Christmas season 'officially' finishes at Candlemas on February 2nd. So keep those decorations up!
I have some friends in Canada who celebrate Chrismukkah.
Sounds greedy.
I don't know about 'officially.' In the Roman rite, the Christmas season ends on the feast of the Baptism of the Lord, which is on 9 January in 2022. It is after that that the liturgical colour changes from white to green.
Chrismukkah is rubbish compared to Eid al Hannukmas.
English Heritage is old skool, like me

Many, including my wife, do indeed think of Xmas as lasting until Candlemas (the feast of the Presentation of Our Lord in the Temple, also known as the feast of the Purification of the Blessed Virgin Mary). There is supporting evidence for this from medieval England:
Wolcum, Wolcum
Wolcum be thou hevenè king
Wolcum Yole!
Wolcum, born in one morning
Wolcum for whom we sall sing!
Wolcum be ye Stevene and Jon [ 26th and 27th December]
Wolcum Innocentes every one [28th December]
Wolcum, Thomas marter one [29th December]
Wolcum, be ye, Good Newe Yere
Wolcum Twelfth Day both in fere
Wolcum, seintes lefe and dere
Wolcum Yole!
Candelmesse, Quene of bliss
Wolcum bothe to more and lesse
Wolcum be ye that are here
Wolcum Yole!
Wolcum alle and make good cheer
Wolcum alle another yere
Wolcum Yole! Wolcum!
(Set by Britten in A Ceremony of Carols)
[A little maths advent calendar for the kids.]
Maths Advent Calendar for fun.
24 days in one video each day lasts 10 secs. So press pause each day & have yourself a very mathematical countdown Christmas.
For me and millions of others it hasn't felt a lot or even a little bit like Christmas since Sir Cliff Richard stopped releasing his traditional yuletide smash hit☹️.
Of which I need not remind anyone the profits all went to charity…a lot of the time.
Yep certainly is. Let's hope the wreath on top remains in place.
Last year owls are keeping watch from a neighbouring tree.
Thankful for the bright silver beacon of the Perry Village Christmas tree that guides us home past the bistro from afar, on these winter nights when we may have become a little disorientated during the evening.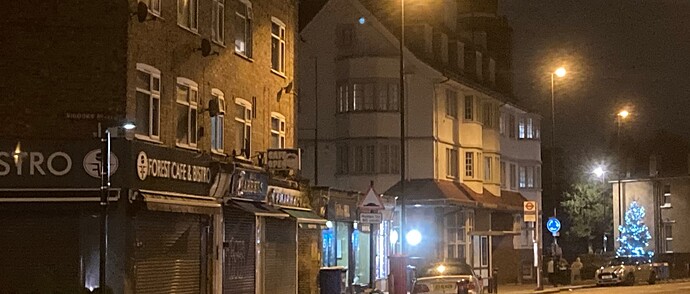 The Christmas Tree in front of Forest Hill Station is now fully lit up. Thanks to:
Lewisham Council and the councillors for helping co-ordinate
Lee Jackson for decorating the tree again this yeah on behalf of the Forest Hill Society
Saira and the musicians and singers from Churches Together for co-ordinating the carols (and raising money for Christmas meals for the elderly in the community)
and of course everyone coming along to join in the carols and the countdown.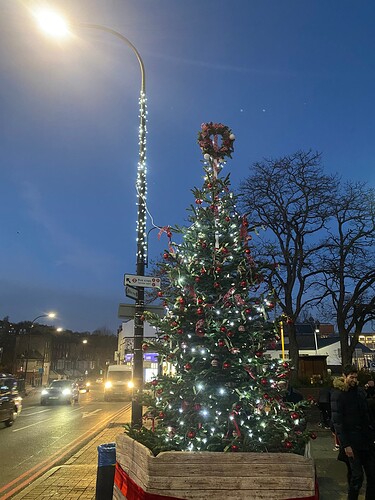 It was lovely to come back from a long lunch with good friends yesterday evening and see the tree all lit up.
Winning the prize for the largest bauble wreath in Honor Oak, it's Jumping Bean with a whole lot of Christmas spirit (and gifts and cards inside):