Is there one for Honor Oak Park?
The Crofton Park one is actually also the Honor Oak Park one.
Could @SE23.life amend the above info please?
Done. The post by @SE23.life is actually a wiki topic so all members are able to edit it and help keep it up to date.
I hear some of the WhatsApp groups are now full at 256 members, so it is worth considering carefully which ones to join - particularly the Lewisham wide group seems more popular than WhatsApp allows.
@ForestHull Yes, and things are moving towards street-level WhatsApp groups where people can coordinate more easily (the Forest Hill group is far too busy).
I put together a shared, editable map of local groups that you can join if you're in Forest Hill: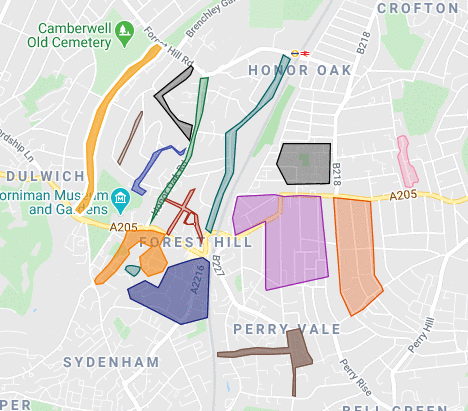 Just click on the group closest to you, and you'll find the WhatsApp group link. The idea is that anyone else can edit this as time goes on. cc @SE23.life
Great initiative! How can I add the WhatsApp group for Grierson Road (South)? Thanks - David
Hit the link to see the live map (https://tiny.cc/o8mflz) and then use the "Edit" option on the resulting page. Once you have made changes, click the share button to 'save' them back.
Comparing with the static picture @Tom_Walker added, there's already some new areas added.
Thank you this is just what I was looking for. We all need to pull together and help protect the most vulnerable in these challenging times! <3
Is there any way to copy the link?
@Dejan_Stamenkovic When you say 'copy', do you mean editing or expanding the existing map? Or literally just copying the link (https://tiny.cc/o8mflz)?
Either is fine

. Feel free to DM me if you want tips.
@Tom_Walker - I just noticed you'd animated the map, showing how much it has grown. Excellent work!
You'll need to open links to the chat groups on your phone browser to get the WhatsApp link working. It doesn't seem to want to open the WhatsApp Web Desktop client.
Seems to open it for me. The website asks me to open the Desktop client and then I have to do the QR thing and I am in. Chrome on Win 10.
Just joined my local group but it seems quiet… at the moment!
I emailed The Resident - they only included the Devonshire Road group in Forest Hill, for some reason.
We just put together one page that anyone in Forest Hill who wants to help can visit to find their group:
https://bit.ly/ForestHillMutualAid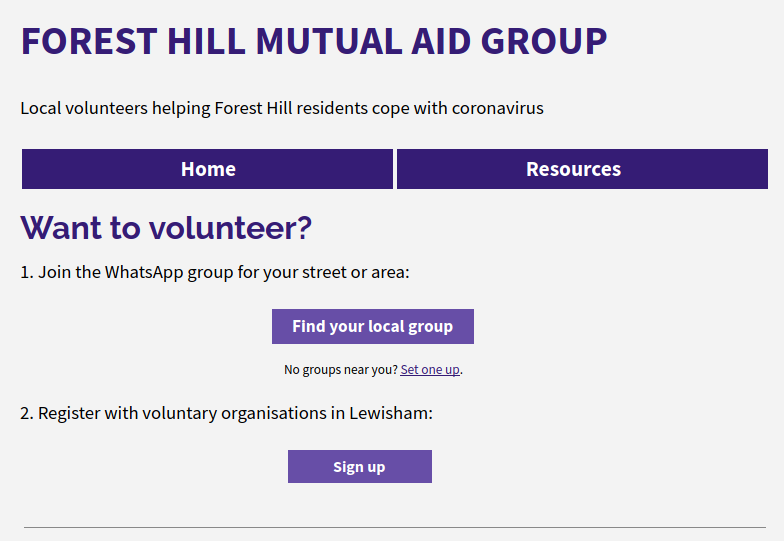 It includes guidance on how to help people, while protecting vulnerable people and yourself. Hope it helps!
Lewisham Local, Lewisham Council, Voluntary Services Lewisham and AGE UK Lewisham & Southwark are co-ordinating a support offer for those isolated in the community through Coronavirus Covid-19.
Hi. Does anyone know if it's possible to get whatsapp on an ipad without having a smartphone? I'd really love to get my mother-in-law on the family whatsapp group but she doesn't have a smartphone.
I tried the link given, but you have to have whatsapp on your phone first to be able to get it on your computer.
Any techies please help!
@JusP You can get the app for an Ipad but I think you need a phone number to sign up.
However there are some alleged "hacks" to get it to work.

I have no idea if it works though