Looking good, sorry I cant be there.
More for us, it's all good John. Thanks for the extra playing cards.
Not a great pic, but OMG! Beef brisket pizza!
The Cinqo wow! Like a really amazing cheese on toast and then some.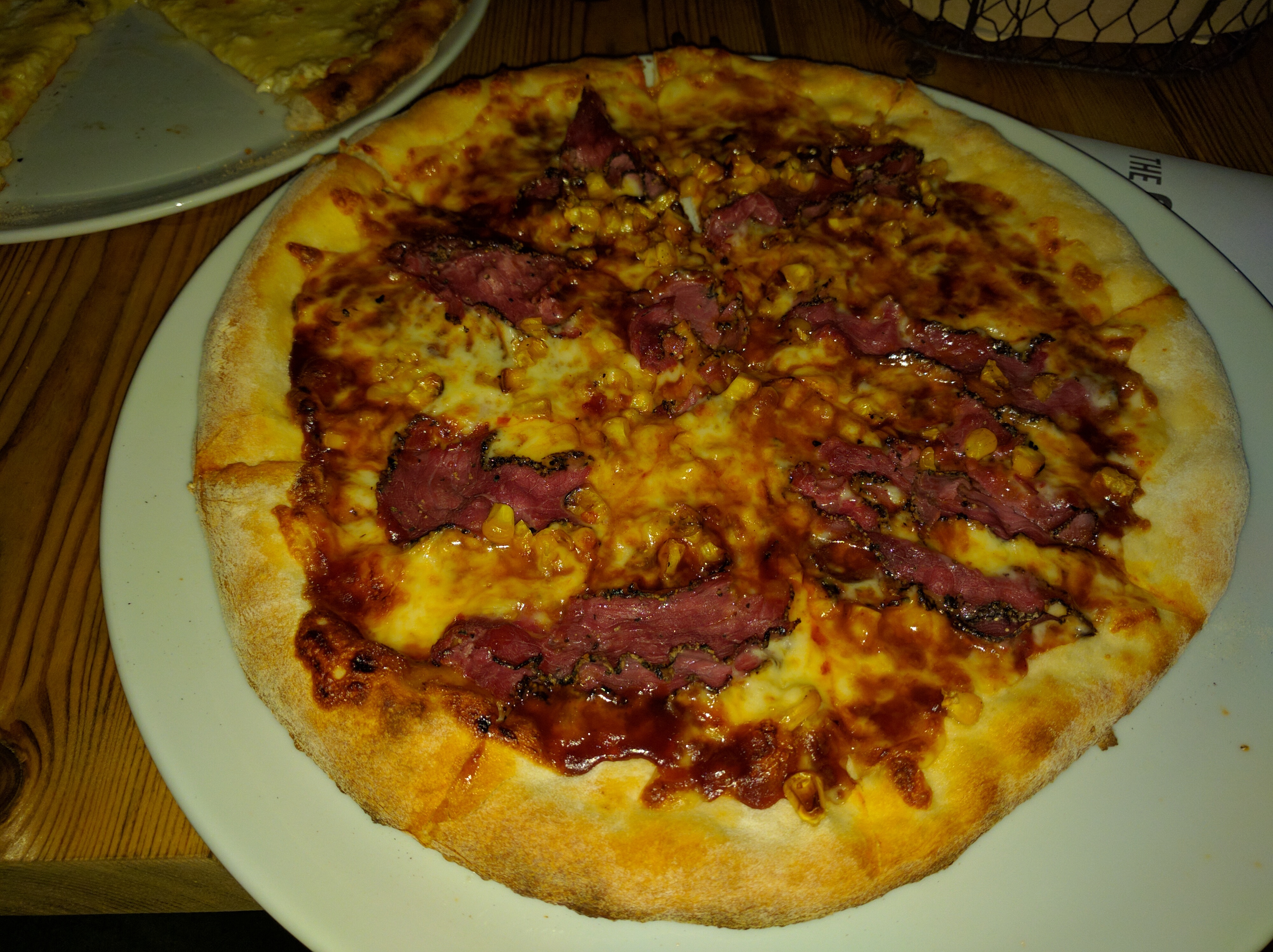 I'm sold!
Just finished up a lovely evening at The Chandos, thank you @Nancy for the amazing hospitality and wonderful food. Pound for pound one of the best selections of pizza u have tasted for a long time…
For a non pub goer it was a great experience.
So my last couple of photos of the evening…
The kitchen

The bar

The back of the pub / seating area .

@chrisbeach stealing my shot.

And the outside at night, with interior lights on.

Lovely to meet Chandos manageress @Nancy this evening and have a catch up with @anon64893700sn and @anon65350507.
The Chandos renovation is fantastic. Sensitive to the character of the building, but fresh, airy and spacious. Cracking little courtyard area at the back with some covered tables that are intimately lit.
Pizzas were great. About the same standard as BOnA, I'd say - not sourdough, and not super-crispy. Great range of toppings. Beer selection excellent - lots of craft beer on tap and a promising rotation - see menu.
Staff all friendly and efficient, and @Nancy clearly cares about making everyone feel welcome. She's a natural.
Here are some snaps (copied @anon64893700sn's angles a bit, hope he doesn't mind!)
Nice pics mate.
Looking forward to the monthly meet for sure now.
Absolutely, me too! Everyone - please let us know which dates you can make for our September SE23.life meetup.
Is there any level access and facilities for disabled?
From recollection I think the front is steps both entrances. Not sure if the rear gate to the garden would be better suited to allow wheeled access etc.
Looks lovely, I'll have to pay a visit soon @Nancy
Hi!
Both entrances have steps up to them I'm afraid… We do have a garden gate on floor level but there is then 1 single step to go into the building.
Thanks,
Nancy
Anywhere to park bikes safely?
If anyone fancies a free pizza or pint then please pop over tonight before 9pm. You must ask for me!
…she said just as my dinner finished cooking! Grrr lol
To anyone else… Run, run to The Chandos as fast as you can, now… Why are you still reading, go go go!
Mmmm Chandos pizza…

We popped in this evening (@Nancy - we're the couple who live opposite!)
We loved it. Great selection of beers, excellent staff, lovely decor and tasty pizza!
Suspect we'll be back tomorrow!
Glad you liked it @Phil, come on spill the beans. What pizzas were devoured?
I will be back for sure too.
There is a bike thingy (one of the rack things you can chain them too) just to the right of the pub. If not, then if they aren't too much in the way then they can also go in the garden, at your own risk though!! xx
Ahh amazing. Don't forget to bring me that cup of sugar! X