Curiosity got the better of me…
I think it is title number SGL179830, and owned by "THE MAYOR AND BURGESSES OF THE LONDON BOROUGH OF LEWISHAM of Town Hall, Catford, London SE6 4RU."
It is definitely worth checking that it is registered as metropolitan open land or green space, just in case it gets developed.
I live next to this bit of land and its surprising how many people would enjoy the bench there.
The current state is due to it being used as storage for all the diggers during the works on Waldram Park rd. Shame they didnt give it a spruce up after they left.
Send Lewisham an email, & ask them to do it. Realistically, it won't happen atm, but good to let them know that people care, and will push for it to be maintained. Put them on notice.
Apologies - I've just seen that you have emailed already!
Something like this would be nice.
That does look really nice. I think that was done a little while ago now (before my time on the Council) but worth checking in with the local cllrs to find out what kind of support they got (another similar project is the railway garden in Crofton Park). Happy to put you in touch.
Any chance of popping a public loo there too? It might stop people sh****ng behind our cars parked nearby.
There used to be a public loo in Forest Hill. I think it is someone's home now!
It looks like their attempt at a "Spruce up" has resulted in more of a Glastonbury '97 look.
Certainly triggers some flashbacks when I look at it.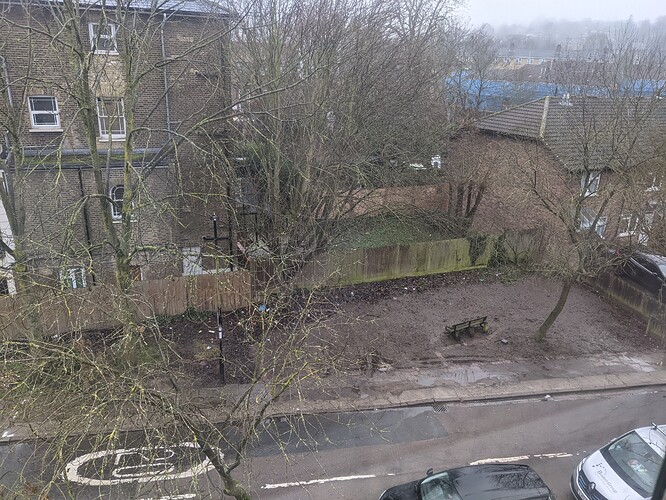 There is still (an admittedly a bit gross) public toilet next to the station. If this was fixed up maybe…
I think the Stanstead Strip garden cost about £15k. There used to be a sign up explaining the cost and how it was funded but it wasn't there the last time I looked for it.
If I remember correctly, the original Stanstead Strip garden was created by residents across the road as a DIY community project. But someone must have applied for big funding and it became a professionally designed garden. It's a beautiful garden and still looks impressive, but it was an eye-watering amount of money to spend on a small patch of land that doesn't have many passing pedestrians to admire it.
It looks great though! Always admire it when heading to Shannon's. Last time there was someone working on it chatting with people living opposite too- seems like it's a great little hyper-local project!
There is a lovely patch at the top of hengrave road (at the very cusp of se23) created and maintained by local residents, plus they have added some raised beds on the street. Will take a picture next time I am there.