Second time I've seen one of these recently, in my garden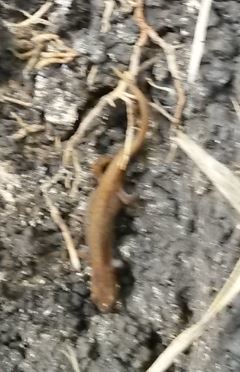 It's a newt - almost certainly a smooth newt - in case anyone was wondering.
It probably bred in the pond in Dacres Wood, which is about 200m away - I spoke to Lewisham's Ecology officer about this, and it seems no one quite knows how newts and other amphibians manage to travel such distances from where they breed.
Set me thinking about the size of their inside legs - maybe 5 mm? On which basis, it's walked the equivalent of about 30 km for a human.