Thanks Michael. Probably passed your house this evening en route to/from the polling station. Cheers, Shaun
Hello all
I suppose I should introduce myself now I've made a few posts…I'm originally from West London, and move here roughly 10 years ago mainly as house prices were much cheaper than West London (it seems that has changed now!). Since I've moved here, I've got married, had 2 kids, and work has gone well so I'm liking the SE23 tap water.
I can honestly say I really love living in Honor Oak. It's a good mix of people, good primary schools, good restaurants, very green, easy to get into town and lots more I'll add to relevant threads.
I'm definitely advancing quickly into middle age as I now spend far more time gardening than watching football. I'm trying to grow sweetcorn and giant sunflowers for the first time this year, as well as my normal staple of peas which the kids love eating raw. Have given up on strawberries as the squirrels steal them all.
When I have the bird feeder up, I get woodpeckers and nuthatches feeding from them daily which I find amazing.
I'm glad this forum has a separate politics area I can stay out of as I think I'll enjoy it more that way (by that I mean by not seeing the conversations!)
Al
Nice to get to know you better, Al, especially as a fellow Honor Oakian (Ebsworth St). Hope you can make the meetup on the 30th.
Hi Al, and welcome to the community forum, sounds like you have created your own little world right there.
Thanks for the detailed introduction.
As for the politics part of things, I could not agree more.

Hope to see more posts from yourself and the growing community soon.
HI all, I am interloper from Boro of Lambeth. Born Cockney, raised St Reatham - alright - Streatham, lived in Dulwich & W Norwood now back over the border (just) in SW16 again. Recently I find myself drawn to the area between Crystal Palace, Sydenham Hill and Honor oak due to my love of the small pockets of woodland and old cemeteries at Old & New Camberwell and Nunhead which give an alternative to my local and beautiful West Norwood cemetery. I no ghoul but I love the beauty and history or our less kempt cemeteries and they provide food for my cameras. Sometimes, if there is enough info on a grave stone I will research the incumbent and see what they did in life. I spent 40 yrs driving a London taxi and hating most of it. Whenever I could I'd be wild camping and walking the fells of Wales, Yorkshire but mostly the Lake District. Cycling has been another love. Unfortunately at age 62 and super-fit I was knocked off my bike by a pedestrian and re-damaged my already twice repaired spine. As often happens as we get older the accident set off a train of health problems most of which I now have under control but necessitated retirement. The remaining legacy is my weight which I'm desperately trying to lose. If you see a fat old bloke walking around the local cemeteries with a camera or two that'll be me. If you inhabit Twitter you may have seen some of my mostly infrared photos of the cemeteries and of Sydenham hill wood, Crystal Palace and Sydenham Wells Park and I was also able to make a small contribution of some "straight" photos to the Twitter "Save Camberwell Cemeteries" campaign. I've already chatted to few other regulars at Nunhead cemetery so I have high hopes that the members here will be as pleasant. If you do see me out and about (I really am the epitome of a fat old guy walking with difficulty due to weight and back problems and often I have small camera pack on my back and sometimes use a stick.
I am interested in History (and natural history), in particular the minutiae of history - how the ordinary people lived and in industrial history. I researched my family history mostly before records were digitised and have records going back to 1500s with ancestor names on official documents (including the acts of Protestation under Cromwell) and also (thanks to a Mormon relative in Salt Lake City) the diary of a branch of my Leicestershire family who converted to Mormonism and sailed (literally) to America mid 1800s and traveled by wagon train to Utah).
Time for me to read some posts here I think.
That's a very thoughtful and interesting introduction. Thanks for sharing, @vicspics, and welcome to the website.
I saw some of your photos on Twitter and was really impressed (the IR ones were astonishing). If you'd like to share them with the forum, we have a topic here that would gratefully receive them:
Thanks Chris. Unfortunately I'm a phonephobe and my mobile is steam powered. I just installed fake android OS on my PC (called ANDY Android) and then opened an instagram acc but having a few problems with it. I do have a tablet so maybe I can use that to show pics from my Google photos acc.
For now I'll leave this link to one of my infrared galleries on Google photos. The are West Norwood, Camberwell Old and Nunhead cemeteries, Sydenham Wells park, Crystal Palace Park and stadium, Streatham Rookery and woods, Morden Hall park (small streams and Georgian mans) and Richmond park with deer and a couple from Eltham Palace.

Hello All,
My name is Phil and my partner and I moved to Honor Oak Park in October 2015, having lived in Bethnal Green for 5 years. Despite initial concerns about missing the "buzz" of central(ish) London, we've loved it here so far, and haven't looked back.
I work in insurance in the City, and she's a teacher in Kent.
Thus far we're big fans of Mama Dough, the beer dispensary, Brockley Market and St. David's Coffee House. We try to patronise local businesses as much as possible (including the rather calamitous opening night at Hattush!) and would love to see any and all new additions to the high street. A fishmonger, bakery, greengrocer, or another butcher would be very welcome!
I look forward to contributing to the forum / community!
P.S - Chris, great job on the website. I think this is the best designed online forum I've ever seen!
Lovely to get to know you better on here @Phil, and thanks for the comments on the site.
Really I can't take all the credit for the design of this site, as I'm benefiting from some excellent open source software (Discourse), and I've also benefited a lot from the input of @Pauline, @thirstforwine, @anon64893700sn, @RachaelDunlop, @Londondrz and others.
Glad to hear you're enjoying HOP. I live here too (Ebsworth St), and the improvements over the last few years have been so encouraging.
Let me know if I can help in setting you up with a profile picture.
Hello, my name's Matt. I live in HOP with my wife and baby daughter (nine months old now!).
I've been a little down on the area recently (mainly because of some troubles with a local business), so thought joining this site might help me appreciate life in SE23 a bit more.
Anyway, I'm a composer/sound designer for a living. Which, frankly, isn't a proper job, but seems to be where I've ended up!
I like the green spaces round here and the amazing convenience of the Overground line, but could do without quite so much of the anti-social noise (which probably affects me because of the nature of my job and with having a young baby!).
Welcome to the site @MattB - nice to meet another Honor Oaker (I'm in Ebsworth St). Pop into the July meetup (Thurs) if you can make it. The last couple of meetups have been really good fun.
Damian De Leon
Art, Nature, Politics and Eclectic Music
Greetings fellow SE24ers! Just thought i'd introduce my self briefly…
I'm a happy mid-30s London born digital designer working in the creative industry for 9+ years. I've been living in the SE23 area for 4 and a bit years now and love it to bits. I studied Interactive Multimedia design at Bournemouth Arts Institute, then Media Production & Practice at Bristol UWE. Like most, I love to travel and learning about new cultures, I spent a great 5 years living and working in Portugal, and due to my best mate being French, i spends lots of time in the Languedoc area in the South, where i've become mildly addicted to visiting the white horses and flamingoes of Camargue's beautiful beaches. Although a city boy at heart, I love the outdoors and enjoy taking long walks in rural spaces. I enjoy a good game of badminton or backgammon with friends, I also have a great interest in food and enjoying making loved ones smile, or, cry, with my cooking or taking them to Barcelona Tapas for some octopus! I'm an avid news consumer and documentary buff, with history, science and nature the main topics. I like to visit small galleries, and have a great love of whats now called 'Street-art'. Visiting the Natural History and British museums are staples for me and i try to go to either every few months, something which always reminds me of my childhood.
Random fact: I was the youngest juror on record at Snaresbrook crown court at 18 years and 4 months (1998), after being called for jury service just 2.5 weeks after turning 18.
Great intro @DeDae2022, and welcome to the forum

I see you're interested in politics so I have opted you in to our "Politicos" category so you're able to see and take part in all the discussions we have there. A few of us have taken the political compass test, so you can see where we all stand, and if you like, take the test and join the SE23.life compass

Hi all,
I've been in FH for about 18 years so I can remember when it was considered the backside of South London - that is if people had heard of it at all. There has been a lot of changes over that time - most of them for the better. I am currently loving the new found spirit of FH which this site epitomizes.
I genrally don't post much personal stuff on the web and this username is not one I generally use but I am sure that some bright folks here will be able to associate them!
Anyways - I am 51 and mainly interested in beer, food, cycling, growing my own and making my own stuff. I work in IT doing sysadmin stuff (not the bright shiny stuff that @chrisbeach does so well!) with servers and systems at a local(ish) well know independent school - pays the bills but looking for a new venture as I type - something local. I moderate an allotment forum and I am secretary of a private allotment association in Brockley. I spend most of the summer in the garden or down the plot talking rubbish with a load of silly old men and women who should probably all know better.
I ride my bike very day - mostly going out of my way to get to work on time but taking in the hills of SE London. I love watching and, to the dismay of my wife, talking about cycling. I love the old punk spirit of DIY and helping yourself and others - this site seems to fit the bill for that so well done @chrisbeach.
So I make my own stuff - bread, soap, hand cream, bath bombs, bacon, wine, chorizo and of course I grow a lot of what I eat - just need to get my own brewery up an drunning.
I started working life as a courier back in the 80s
Here is me posing for someone's graduate photo course assignment!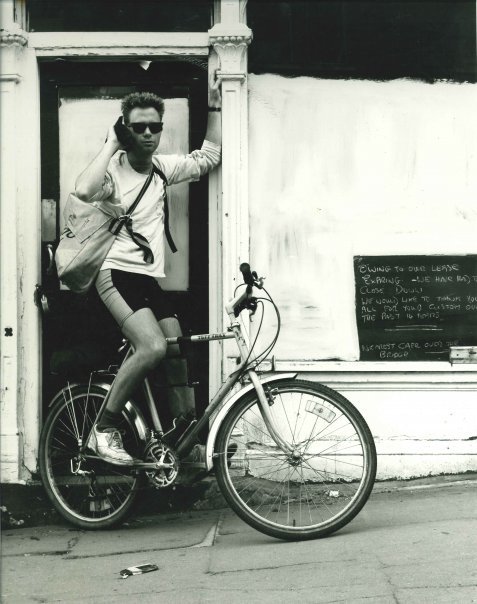 Spent some time travelling, got into IT through doing print ops and then my mate naffed off to Africa to drink for a living and gave me his job and I have been doing IT systems stuff for the last 20 years. Still time for something new!
Local shops that I love are Finches (which is possibly the greatest shop in London), Crafty Beer, Shannon's Garden Center and the Proud Sow which is a fantastic butchers for both meat and banter!
This is a nice site - looks original, well programmed and content is developing nicely. I'm sure you could make a bob or two syndicating this round London postcodes!
Lovely to find out more about you @Foresthillnick. Sounds like we have a lot in common! Thanks for sharing.
Regarding syndication, I own a lot of postcode.life domains across London and I am always on the lookout for an enthusiastic and IT-savvy co-admin from a neighbouring postcode to kickstart the next .life venture with.
The team and I have learnt a lot from the first couple of months of SE23.life and there's still lots to learn, but once we've cracked the local forum formula (which is far more about community / people / processes than technology itself), we'll see neighbouring ".lifes" popping up all over South London and beyond.
Well if you ever need someone…

Sorry for the late reply, but just wanted to say welcome and great intro.
Wowza, I have to say, when I first started this thread I was not expecting so many deep and detailed replies from so many people.
I just want to thank everyone who has posted and introduced themselves for being so open minded and sharing so much with a bunch of strangers, or is that friends who have not yet met?
Either way, howdy neighbours, hope to meet a few of you at some point.
Hello all,
I'm Andrei, 29 years old and moved to Forest Hill (Gaynesford Road) 3 months ago from Selhurst. Quite new to the UK as I've arrived just one year and a half ago. Originally I'm from Romania and I work as a business analysis in the city.
Regarding hobbies, I love music (mostly old Hip-hop, jazz, raggae and old rock music), technology, video games, beer and football. Would be great to get in touch and make friends as this is the hardest bit of moving countries.
By the way, if you guys need any sort of help with music production just give me a message.
Welcome to SE23

A good way of meeting up with locals is by coming to an SE23.Life monthly meet up.
On another note you might be interested in getting involved in Forest Hill Arts, give me a shout or just pop in to my shop for a chat if you are interested