Hope it's just a refurb. It's one of my favourites.
I really hope they dont get rid of that lovely leather sofa, I am worried
At the start of the work they briefly had a sign in the window saying they were expanding their offering to include chicken, as well as pizza.
big things are happening on the london rd . !
Judging by the lighting going in I think they might be planning to be a restaurant with places to sit and eat. That will mean three wood fired pizza restaurants in Forest Hill.
Amazing pun. Is the food good ? Anyone tried ?
Commendable name. More local puns needed through.
I always said the flower shop on Dartmouth road was missing a trick by not rebranding Florist Hill.
Soon to be KFC:
http://planning.lewisham.gov.uk/online-applications/applicationDetails.do?activeTab=summary&keyVal=_LEWIS_DCAPR_108639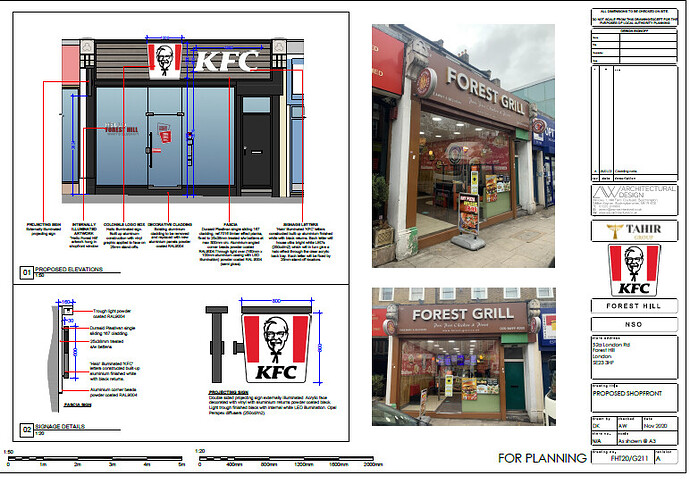 Whilst I love a KFC, the nearest Catford one is close enough to FH. This isn't exactly what our high street needs…
Also I'm sure Ferfect Fried Chicken would have something to say about this blatant copyright infringement
If only they'd sell the chicken gravy by the bucket.
I can't see it lasting, to be honest (has to be a franchise). There's plenty of much cheaper alternatives for local school kids to get obese on and from past experience KFC is too dry to appeal to the late night revellers looking for something greasy to soak up the alcohol and satisfy their appetite. Can't see our neighbours in East Dulwich wanting their neighbours to witness - and potentially report - the tell-tale signs of a KFC delivery, either.
Am I misremembering? Didn't there used to be a KFC in the area?
I love kfc. Chicken fillet burger all the way

From what I can remember, when I was a child there was a KFC on Lordship Lane, I'm sure it was on the chain of shops where GBK is now, that was when there was a Tesco on the corner of North Cross Road, opposite was a Sainsburys freezer shop and the co-op supermarket was where the estate agents is now next to the chemist. Where the co-op is now was I think called International supermarket.
Leave it out. Anyone who's been pissed enough after disembarking the London Bridge or Overground service into Forest Hill fondly savours the explosion of grease in their gob seconds after tucking into a mouthful of grot from Ferfect.
It can border on being primordial on some occasions.
Morley triple m burger for starter, KFC 3 piece and a soda for main and Ferfect apple pies for desert. The last overground train set meal coming in Summer 2021.
The Jolly Bee always provided my late night snack off the train - chips and saveloy!