Very excited to read this! Much needed in this area
Agree. Wonder which number/ where exactly.
Looks like it's 5-7 Brockley Rise from their Twitter profile.
This is VERY exciting. Just what we need.
Hello, yes that's correct, we are just opposite the pharmacy, on number 5-7 where the previous "Brockley Newsagent" was. Thanks for the support on this forum

I think I saw you working hard on your hands and knees this morning as I cycled past!
Good luck!
Fabulous - welcome to the neighbourhood. Look forward to your opening
What sort of things will you be selling? So exciting.
Congratulations! I also saw you doing some work on the place as we went past today. Very exciting; we would love to support you once you're open.
Hey there! Thanks for the interest, we're so excited to be part of this forum! We've been living down the road towards Catford for years and never knew this forum existed! So we will be selling lots of lovely produce mainly from London and the UK.
We're trying to keep it as local as possible but there will be some things coming from outside the UK (delicious cheese from France for example).
There will be a wide range of dry-store and refrigerated goods, bread and pastries, fruit and veg, lots of veggie/vegan/organic goodies. You should be able to find what you need

and we really want to make our local residents happy by stocking their favourite things, so don't hesitate to pop in and let us know what you'd like to see on the shelves.
We look forward to seeing you !
Hi Bella, thank you! We started off with the fun stuff

but we got there in the end and our shutters are ready for painting now (shame it's raining today!). Don't hesitate to pop in and say hello over the next few weeks before we open, if there's anything you'd like to know/request regarding our product range.

This sounds like just the sort of shop we need. What sort of opening hours do you plan to have? Eagerly awaiting your opening now

Just seen lots of lovely fresh herbs put in the shop window. We are so lucky to live pretty much opposite - will be spending lots of time here for sure!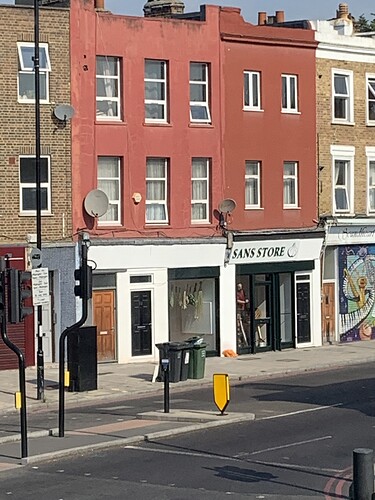 Looked like they were taking in a delivery early this afternoon.
I'm so excited about this! It'll be great to get some veggie / vegan bits closer to home. Darling husband wondered whether they'd be selling 'fancy' beers. I wasn't sure?
We popped in this morning and got some bits. Really lovely! Great range of veggie/ vegan / gluten free products but also lots of high quality products with dairy / eggs / fresh products.
Also, wanted to add, the owners are great, super helpful and friendly.