Hi there
We'd like to tell you about our exciting new FILMMAKING WORKSHOP, taking place at SYDENHAM SCHOOL this summer!
Take Flight Academy are thrilled to be working in association with CHOCOLATE FILMS, to present "SCRIPT TO SCREEN", in which your child/teen will learn how to SCRIPT, ACT, SHOOT and EDIT their own movie, alongside some of London's leading filmmakers!
"SCRIPT TO SCREEN" SUMMER WORKSHOP
MONDAY 5 – FRIDAY 9 AUGUST 2019
Sydenham School (main school hall and on location around the site)
Dartmouth Road, London, SE26 4RD
10am – 4pm each day
For ages 7-16 years (working in film crews split by age)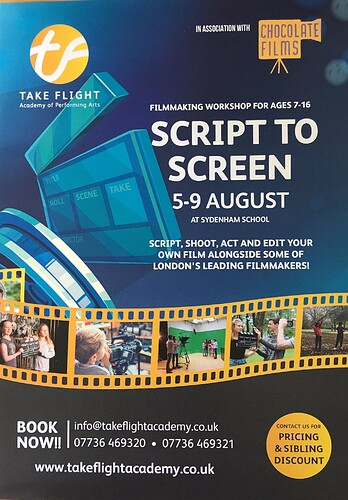 CHOCOLATE FILMS WORKSHOPS, based in Battersea, is a UK leader in the training of filmmaking and media skills. They run a range of projects with schools, colleges, broadcasters and leading arts organisations including The National Gallery, TATE, Barbican and The National Maritime Museum. All their workshops are facilitated by practicing film makers from CHOCOLATE FILMS, an award winning video production company based in London and Glasgow.
Running over 5 days, the "SCRIPT TO SCREEN" workshop will provide your child/teen with in-depth training from professionals using high quality equipment. The workshop will provide valuable experience in acting on camera, directing a short film drama and production design on a shoe-string!
In film crews split by age, participants will have the opportunity to take on various roles such as director, script writer, actor, camera operator, sound person and editor to name a few!
The workshop will be held in the safe environment of Sydenham School, home to Take Flight Academy's term-time Saturday School, based in the main school hall, but also shooting on location in and around the school site!
A copy of the final film produced by each film crew will be sent to all participants via We Transfer at the end of the workshop.
For more information on Chocolate Films Workshops please see:
BOOKING AND PAYMENT TERMS
We are so excited to provide this incredible opportunity for local children and young people! It promises to be a hugely creative, inspirational week for all involved, so don't miss out and contact us NOW to book your child/teen's place!
COST:
Early Bird: £250 / £220 for siblings (bookings made by Friday 7 June)
Standard: £270 / £240 for siblings (bookings made after Friday 7 June)
NB: EARLY BIRD RATES ARE VALID FOR ONE MONTH ONLY AND END STRICTLY ON FRIDAY 7 JUNE AFTER WHICH STANDARD RATES WILL APPLY
PAYMENT TERMS:
If booking early enough, we can invoice you in two parts, across two months to make payment more manageable. Early booking is advised as previous workshops have filled up quickly and places are limited.
More information can be found at:
http://takeflightacademy.co.uk/classes/holiday-workshops/
Please get in touch with any questions you may have, our contact details are below.
We look forward to hearing from you soon!
Best wishes,
Leanne
Leanne Panni
Director/Business Manager
Take Flight Academy of Performing Arts
E: leanne@takeflightacademy.co.uk
M: 07736 469321
W: www.takeflightacademy.co.uk