I suspect many of you get the Horniman's monthly newsletter. I found the recent Mindful Museum of Me link very thought-provoking. I tried it in just one corner of my room and was almost overwhelmed with memories.
I thought it might be a fun activity to help our SE23.life community to know more about each other if people who have tried it, picked one thing and posted a picture and why they chose that piece.
My piece is a picture that I brought back from South Africa in 2010 after going for a friend's wedding. I picked it out because of all the things in that corner of the room, it reminded me of the Horniman most - something made in the area that it represents and brought back from travels just as Frederick Horniman did. And because it brought back memories across multiple senses which seemed to fit with the mindfulness angle.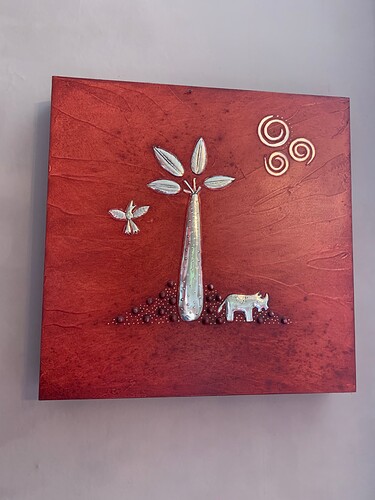 It shows a Baobob tree with a rhino below foraging on fruit and the sun in the sky and was made by Jeanine Rynners. It's wood with pewter and clay attachments.
I bought it to remind me of my trip and it does bring back multiple experiences in Cape Town, Jo'burg, Soweto and going on safari in the Kruger park
But when I looked it afresh for this, I remember buying the picture at a roadside stop on the long drive back to Jo'burg from the Kruger. It was a really hot day and we'd stopped to buy lunch - kudu steak sandwich from the brai - and stretch our legs. My mouth is watering just at the memory of how good that steak smelled. There was a little craft shop where I found this and bought it despite the weight. I chose between two - this and another of an Amarula tree in a deep blue. This suited my decor better but remembering the choice, also made me think of the Amarula tree - and the Amarula drink which we had as a nightcap on that trip. We opened the miniatures by torchlight in a tent near the perimeter fence to the Kruger where we could hear hyenas howling from metres away.
I remember us joking about the close overtakes feeling more like a video game and discovered The Parlotones on the radio - a band who I've since seen live in London a few times. And who I've gone back and listened again this week after this exercise.
I hope you enjoyed reading this. I look forward to hearing some of your stories about your 'exhibits'