Does anyone have any good Vietnamese recommendations around here?
I haven't tried it but we noticed a Vietnamese in Sydenham the other day, called Saigon Cafe. It averages 4.6 stars on Google reviews, which is a pretty good score in my experience, and it's on our list to check it out some time soon.
If they deliver to SE23 Bahn Bahn in Peckham are very good.
There's a good one on Catford Broadway. Behind the council building. Called Saigon Foods.
Agreed. Banh Banh are on Deliveroo and I'm happy to say they do deliver at least as the SE22 border area of SE23.
I treated myself to Mr Bao the other night with enough left over for lunch. So so good!
Oops! Banh Banh not Bahn Bahn!!
Has anyone voted for the Fu House yet? Never been disappointed, except one time it was a bit late arriving but that's only happened once so far.
Wait, does that mean the India Gate is gone? That's where I used to go (you can tell I haven't walked up London Road and paid attention for a bit)
Been gone for a while I'm afraid, this was back when it was snowing: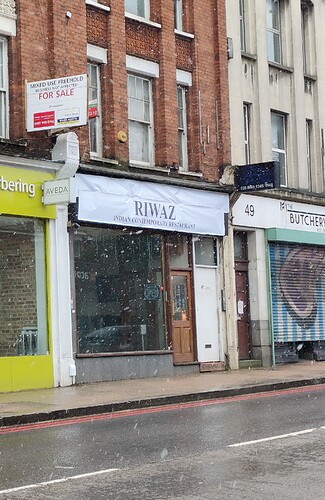 The new menu is here, along with a recommendation:
It's not quite SE23 but Levante Pide in Lewisham is amazing - and it delivers to Forest Hill.
They give bags of complimentary bread and they are so charred that the room smells like bonfires when you open the bag - gorgeous!
Portion size is HUGE - don't over order or you will be eating it for days

Mine too @AndyS , the pizzas are just amazing.
We've just had a fabulous meal from our local Sardinian restaurant, Le Querce in Honor Oak, which we turned into a six course tasting feast. I was worried it might not travel that well, but we kept the courses we hadn't already eaten in the oven and it all worked brilliantly!
Aubergine parcels, squid and Pearl barley, monkfish pasta, cod cheeks wrapped in speck with risotto, tiramisu and chocolate cake. It was their Mother's Day special, £33 per person with a free kids meal thrown in.
I've had dinner and looking at that still makes me hungry! I miss Querce, we've not been for so long and they are so good with the kids in there, plus they have some of strangest ice cream flavours - my brother in law won't be ordering onion ice cream again though my at the time 4 year old nephew liked it!
If anyone is looking for good Middle Eastern food, Nadine in Camberwell is delivering via Deliveroo. Their food is brilliant, the mezze box is especially good value.
Another +1 for Pizzarte here, tried them the first time a couple of weeks back
Also, tried Omrith on Forest Hill Road in SE22 last weekend and it was pretty good. Pretty extensive menu, quick delivery. Fantastic pakora.
I did try Riwaz as my usual was India Gate, and it was good but it's pricey compared to run of the mill takeaways so it won't be in my regular rotation, more of a rare treat.
Oh I am getting Nandine this weekend for sure! Thanks for the tip.
We just finished our takeaway and it was delicious. Especially the baba ganoush.