Looks good and I am looking forward to giving it a go…
We have recently started making our own but obviously it isn't quite as pretty!
Has anyone seen a menu yet? I love sushi and shashimi. The OH. Not so much. I'm hoping theres a few cooked items on the menu.
Looking forward to trying it out soon!
How good does that platter look!
Good luck Sushi Garden
(Pinch to zoom if on mobile)
Just been here this evening for the first time. Couldn't recommend this highly enough. Fantastic, fresh and tasty menu. Worth booking ahead at weekends. Great to have on our doorsteps.
They do collections and are planning to do Deliveroo soon.
Collected tonight. Very impressed. Good sushi and hot options.
Good, but Hibagon is better.
We had a lovely al fresco meal at Sushi Garden one evening last week. My wife lived in Tokyo for 25 years and is really chuffed to have a local Japanese restaurant! Great flavours! Pic of mixed chirashi attached.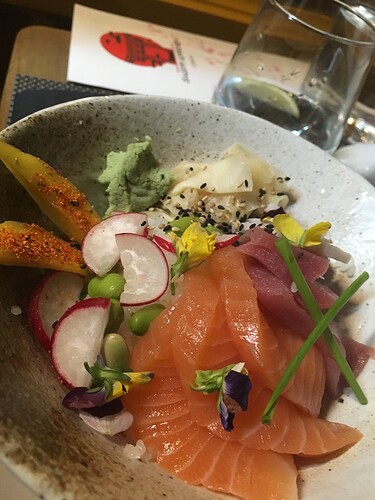 They do take out? Directly or through a 3rd party?
Yorkshire lad above has said they do collection and delieroo
I popped in there this week and it very good. Not the cheapest but the sushi was great quality and the waitress was excellent too…
Went tonight with my better half.
All very nice and great to have Sushi so close. Tried the Japanese Egg fried rise which was good, but the steamed chicken dumplings were amazing, so good.
All sushi (salmon and tuna mainly) was very good, though the Octopus was just ok.
Nice atmosphere and staff - will definitely go again next time we get a babysitter!
We're just enjoying our first sushi garden experience - everything has been delicious!
We went here last night for the first time. Really excellent. Possibly the best dumplings I've ever had! Great service and decent wine list too. Highly recommended!