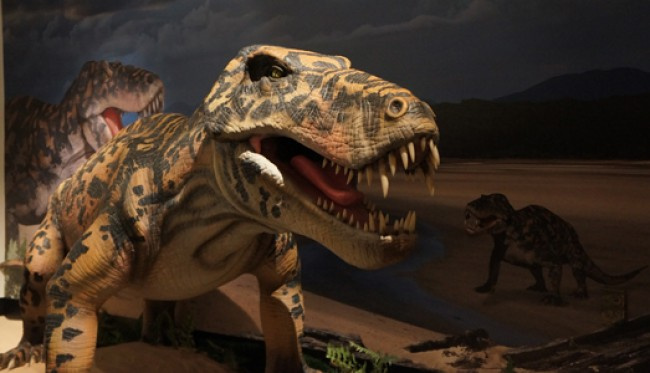 https://www.horniman.ac.uk/visit/upcoming-exhibitions/permian-monsters-life-before-the-dinosaurs
About the Exhibition
252m years ago, in a period called the Permian, life on Earth was dominated by extraordinary creatures.
It was a time of fearsome sabre-toothed predators, giant insects and bizarre-looking sharks.
The Permian ended with a mass extinction that destroyed 90% of all life, paving the way for Earth's next great rulers… the dinosaurs.
In this fascinating, family-friendly exhibition, which is travelling to the UK for the first time, you can discover more about this mysterious time period.
On display will be fossil skeletons as well as full-size models and animatronics that bring the Permian back to life. You can also sift through interactive dig pits and get creative in an art area.
A relaxed opening for families who are unable to visit when the Horniman is busy will take place on Thursday 16 April, 9–10am. Look out for Permian Monster activities during the school holidays.
Tickets for Permian Monsters
Permian Monsters is open from 15 February until Sunday 1 November 2020. Book your tickets
Members and Benefactors go free - find out more about becoming a member or supporting the Horniman as a Benefactor. Present your membership or benefactor card at the entrance to Brick Wonders in Gallery Square. Please note: during busy times, such as half term, you may need to queue to enter, due to the capacity of the exhibition.
Tickets are valid all day for the day of purchase for single entry only. Visit Permian Monsters any time during Museum opening hours.
Pricing
| Ticket Type | Price |
| --- | --- |
| Family (2 adults, 2 children) | £18 |
| Family ticket with Gift Aid | £20 |
| Adult | £8 |
| Adult with Gift Aid | £9 |
| Child | £4.50 |
| Child with Gift Aid | £5 |
| Combined Adult | £15 |
| Combined Adult with Gift Aid | £17 |
| Combined Child | £10.50 |
| Combined Child with Gift Aid | £12 |
| Combined Family | £38 |
| Combined Family with Gift Aid | £42 |
Combination tickets - Permian Monsters + Butterfly House + Aquarium - On sale soon
Combined tickets through the Butterfly House page will be available soon
You can also go free with an Art Pass.
Children under three may visit free of charge and carers accompanying visitors with access requirements get free admission. A family ticket is for two adults and two children aged 3-16 years.
Combination tickets for Permian Monsters, the Aquarium and the Butterfly House will be available soon - please book through the Butterfly House page , as this requires a timed ticket for entry.