Expanded Horizons
SE23.life hit an astonishing milestone on Thursday. Our 100,000th page view. On the same day, @Se23life reached its 1,000th Twitter follower.
With such growth of the forum we decided to expand our moderation team, approaching prominent local writer @RachaelDunlop. Her positivity and good humour have resonated with our community here, and her technical savvy makes for an ideal moderator. Happily, she accepted.
Supporting the growth of SE23.life are our kind sponsors:
After the success of our first meetup in May, we're keen to do it again in June. An open invitation to all forum members to join us for a casual get-together where you can feel comfortable just popping in for five minutes to have your profile verified, or stay and see where the night takes us.
Us @admins are keen to know how SE23.life can work better for you - I'll exchange a drink of your choice for your insight



New Special Interest Categories
Seems SE23 goes crazy about two things in particular: Politics and cycling.
As these trends emerged, we made new spaces where they could be discussed in depth. Two new categories, which are visible to those who've "opted in." Everyone is welcome to opt in. Here's how:
Reply to the "Calling all Cyclists" topic. To help us get to know you, why not mention your level of cycling (all are welcome) and your favourite route.
Reply to the "Calling all Politics Fans" topic. When opted in, check out the "Political Compass" topic where we share our positions on the two main dimensions of political thought.
In the Cycling Category
Nothing better than a couple of laps of Richmond Park on a warm evening after a day in the office. Friday was our first casual group ride, and we plan to repeat this over the coming summer weeks. We're lucky to have SE23.life sponsors @Finches Sport Shop onboard, with their offer of a free bike health-check in June. We look forward to riding with them too.
@clausy has taken the top spot on our Strava group leaderboard, clocking up a tremendous 212km:
In the Politicos Category
SE23.life politicos are deep in thought on the EU referendum, and naturally, other topics have branched out from the discussion. The role of unions, the minimum wage and worker's rights. It's a lively debate from people with principled beliefs. We're lucky to have members of local government involved too.
We've found out a little more about each others' political leaning by comparing "Political Compass test" results:
Hot Topics in SE23
@thirstforwine suggested new landmark street art along the lines of Herne Hill's "walk this way" piece. The forum loved the idea, and just days later, we have a quote from the artist that worked on Herne Hill's artwork, and have entered talks with TfL and the local authorities to commission this piece. On Monday 13th, @Pauline is meeting Network Rail officials to start the ball rolling.
In this topic we explored innovative local bands and artists, including ORKA, Ezra Collective, Nou Enle and the Inner Terrestrials. The stand-out band was Four Femmes on the Thames (featuring our own @emmad), with their (not safe for work) feminist anthem "Woman Up." The video was filmed in Havelock Walk, Forest Hill.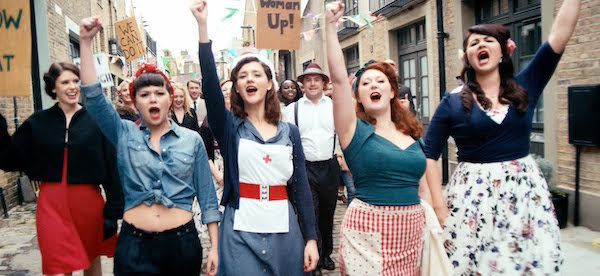 Have a great week, and stay tuned to the forum for updates. Don't forget to put it on your phone homescreen if you haven't already done so.