Archived on 6/5/2022
Hotel on Co-Op site - plans approved

SE23.life
4 Mar '19
Continuing the discussion from: Co-op / 1 Waldram Park Rd proposed hotel [Approved]
https://planning.lewisham.gov.uk/online-applications/applicationDetails.do?activeTab=documents&keyVal=_LEWIS_DCAPR_94373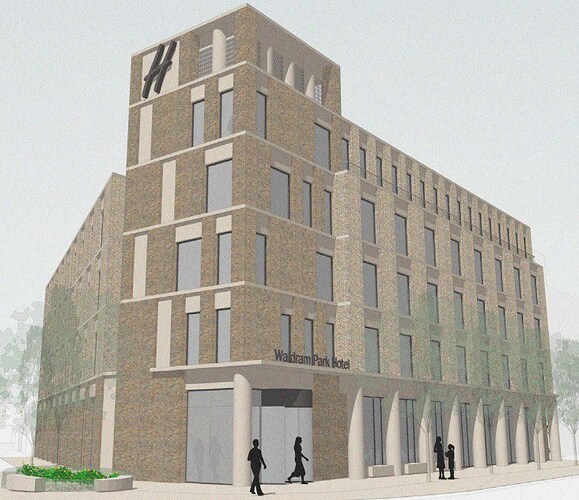 The hotel plan has been approved:


Hollow
4 Mar '19
Zero parking. And I can't see a space for a delivery van or taxi to pull over. On a red route. This is going to be fun.
At least they have storage for bins…perhaps the council has woken up on that one.

KatieV
4 Mar '19
From the minutes 3.14: " From the
commercial perspective, they spoke to number of hotel providers, but mostly to IHG
(International Hotel Group) who has Holiday Inn Express franchise and Hilton Group who has
Hilton by Hampton franchises. Both are shortlisted and very interested and hotel was
designed to the Holiday Inn Express specifications. "
Is Holiday Inn confirmed or is a Hilton still a possibility?

kj
4 Mar '19
As someone who lives in between the coop and the porta cabin site, does anyone know of any good 2 beds for rent not between two potential building sites…


Fran_487
5 Mar '19
Potentially mine if the All Inn One hotel redevelopment plans go ahead in their current state! One building site is better than two!

(Seriously, this entire stretch is going to be an absolute nightmare)

Forethugel
6 Mar '19
Am I right in assuming that there currently doesn't appear to be anyone confirmed who will definitely be building or running this hotel? Does this mean it's a speculative planning application with the aim to sell the site after for more, but there is absolutely no guarantee that this would actually go ahead in the near future?
I'm not impressed by the architecture, definitely better than what's there now, but that alone shouldn't be sufficient. The buildings on the side look just about ok but the prominent corner element reminds me a bit of the tate modern extension. Why does it look like there are some windows missing while others have been bricked up? Overall, it looks like what was the cheapest option the thought they can get away with.
I'm hoping that at least one of the hotels will make it. I'd be surprised if both were going up.

westy1980
6 Mar '19
I think this is excellent news. It could bring footfall to this side of the tracks, giving the pretty neglected Perry Vale a bit of a boost. More diners eating at Piazza Della Cucina and Sfizio. More customers picking up a beer at Clapton Craft. More people getting a trim at the Crafty Barbers.
The street currently feels a bit odd, which I think is partly to do with the lack of shop frontage caused by the Co-Op's car park. The designs above could remedy that. Fingers crossed it goes ahead smoothly and without too much disruption for the people living near the site. In the longer run, I think this will benefit people living near by.

Anotherjohn
6 Mar '19
Glass half-full brings the potential positives to the fore. Nice one!

Andy
6 Mar '19
I live close but far enough away to not be affected by building work.
I agree about the footfall. It seems that a few ventures have struggled and failed around Perry Vale when a few more customers would have meant the business was viable.
There has been a discussion about disabled parking; however, the disabled access to the station from the hotel site is terrible.

DevonishForester
22 Mar '19
It's a defensive measure against the noise and dirt of the South ZigZagular

Anotherjohn
22 Mar '19
And all that noise and dirt is gonna get a heck-of-a-lot worse when the ULEZ is extended in October 2021


westy1980
30 Mar '19
HI chris - that link doesn't appear to be working. I'm no expert at council planning jargon - could you translate? (Essentially I want to know if this means the hotel is being built or not or we still don't know) Thanks!

Michael
30 Mar '19
Yes. They have been granted permission.

westy1980
30 Mar '19
Thanks! Do you know what Chris' post refer to?

Michael
30 Mar '19
It is the council's formal decision notice. Filled with jargon but definite approval.

westy1980
30 Mar '19
Ta - much appreciated. I'm guessing he sent in an objection and this is their way of saying "computer says no"?

Pea
25 Nov '19
Walked past the Co-op this eve and it's closed. Assume that means work is about to start on the hotel then?

oakr
26 Nov '19
Well the other one has opened next to Shannon's Garden Centre so I guess it will stay closed, whatever is going to happen on their now old site.

Pea
26 Nov '19
Ah I hadn't noticed that. Shame as that Co-Op is so convenient after commuting and living on this side of the tracks.

oakr
26 Nov '19
Yes I guess it will miss some passing trade now - it's only about 5 minutes walk from the old one but few people will walk past it on the way home.
Will have to see how it does, it might be closer walking wise to more people - hopefully it will be good for Shannon's also.

ChrisR
26 Nov '19
The new Co-Op is on the same side of the tracks as the old one just a few minutes further on! And from my first visit at the weekend it seems to have a wider range of items.
LeeHC
27 Nov '19
They kept that under their hat! I did wonder when it was closed last night!! When did the new one open do you know?
LeeHC
27 Nov '19
News Shopper reveals all!


Lesley_Wilkins
27 Nov '19
Yes, can confirm that all the lovely helpful staff have transferred to the new shop. The new store is bigger, has more products and easy to move around

Charliejking
13 Aug '20
Hi folks, just wondering if anyone has any info on when this hotel is likely to be built? It's been a pile of rubble for quite a long time now…

robertjroy
27 Apr '21
I've been wondering the same as there's no activity on the site, and other building sites are operational. I expect the plans may possibly be on hold as there may not be the demand for the hotel any more?

Lhurl2020
28 Apr '21
Travelodge have recently reconfirmed plans for a hotel in Forest Hill, so assume this is still the site and the pause will be un-paused:

robertjroy
28 Apr '21
Thanks so much for sharing!