Archived on 6/5/2022
Posh and Peckish

starman
9 Dec '21
Continuing the discussion from Westbourne Cafe no more:
New interiors are being finished and today I saw new signage.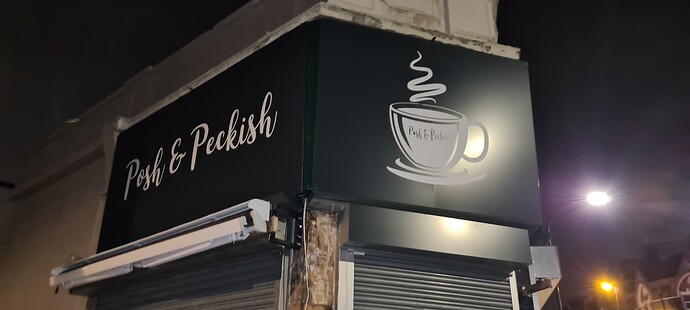 Anotherjohn
9 Dec '21
Ooooh - that's getting a bit too close to 'Posh & Becks' territory for me!

starman
9 Dec '21
I'm thinking that might have been intentional.


Anotherjohn
9 Dec '21
No, seriously, all in good heart - and I hope they do really well on that great site

Michael
9 Dec '21
It's official: it's posh on the east side of the railway!

clausy
10 Dec '21
Peckish - isn't that a play on Peckham? Like it's almost Peckham.

applespider
10 Dec '21
That was my first thought more than Beckham.

Anotherjohn
10 Dec '21
Surely it should've been Posh 'N' Peckish though?

chamonix
10 Dec '21
Either way it's not a great name

sorry…still building needed some tlc so that's good.

Nivag
11 Dec '21
Is it going to be a Peterborough United themed place?

ET6123
4 Apr '22
Has anyone been in? Every time I've tried to go, it's been closed (despite being in advertised hours)

Winnie
4 Apr '22
Yes had lovely wraps and sandwiches a few weeks ago. All lovely. Only down side is the toilets are round the back.

ET6123
4 Apr '22
How do you mean? (Have visions of an outdoor John!)

starman
4 Apr '22
Ive been once and was somewhat underwhelmed. Decent enough caf but not quite living up to the name.

Jo_J
5 Apr '22
It looks nice but sadly its not dog friendly like most of the places are in Forest Hill.