Really excited to be reading this. Do we know what type of food they will be serving in the Bistri?
Does anyone know if this new place is going to be occupied by the Big Breakfast (people at least)? Or did the plans we saw not come to fruition?
ah I see I may have given the impression that this is not the Big Breakfast people - no they move in in about 2-3 weeks and their old premises will become Ibo's barbers. It remains to be seen what aspects of the menu actually change along with the name, but the interior looks like it will be great.
Foodie quarter? Perry Village?? Have I missed a Brixton Village style rebrand??
oh yes. happening right here.
For all those foodies - yes, it's the Big Breakfast cafe. it's moved to the left, while Ibo's barbers have moved into their old space. It's a good idea, although I wouldn't be holding your breath for artisan sourced Norfolk wild truffles.
Hi everyone, Good news for new cafe & bistro in #foresthill #SE23 will opening soon, opening hours as usual 7am and closing time 8pm… with new menu for the residents, they added kebabs cooked on barbecue grill…! Warmly
Welcome everyone

Uploading: IMG_20200314_201115_487.jpg…
I see the Bistro is applying for an alcohol licence, between 10:00 and 19:30 daily (18:30 Sunday) which I hope means they are going to be even more upscale than the old but much loved cafe.
I'm looking forward to seeing the menu soon!
Looks a bit generic, sad they couldn't keep some of the original external features like the glossy tiles

Sauces out on the tables. Opening on Monday.
What a time for the relaunch. But menu looks good and some of us in Perry Village are big fans of Eggs Florentine on sourdough. In for breakfast very soon.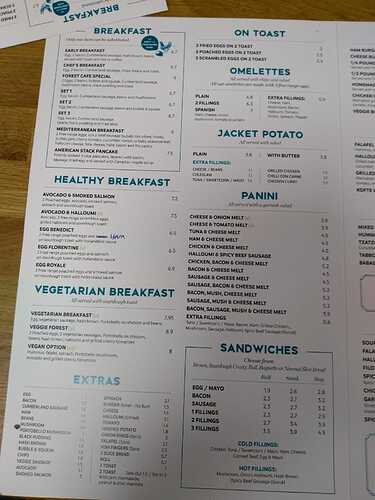 Menu looks great! Maybe they could sell gift vouchers? So the local community could support whilst isolating? I'd gladly treat the husband to a breakfast for the non quarantined date in the future
Or take away. Keeps the business going whilst keeping away from crowded places.
Oooh - I almost missed that the post up above has added pictures of food and all sides of the menu, which has a children's section too!
Yep, they do do take away.
I just had a nice panini and fairly good Cappuccino from there to help with home working. Fast and friendly service too. This could become a regular thing!
It seems reasonably busy this lunchtime, given the circumstances, though there were still plenty of free tables (outside too).
Must have been there at the same time. We sat outside in the sun. Eggs Florentine did not disappoint.
I was on the lookout, but I didn't see anyone with a viking helmet

Fantastic! Good veggie options and so close! Will definitely be trying out their breakfasts soon.