The site was refreshed today.
What a shame to see all that wonderful art destroyed.
At least we have this topic as a lasting reminder of the talented artists' work. This one, in particular, was stunning: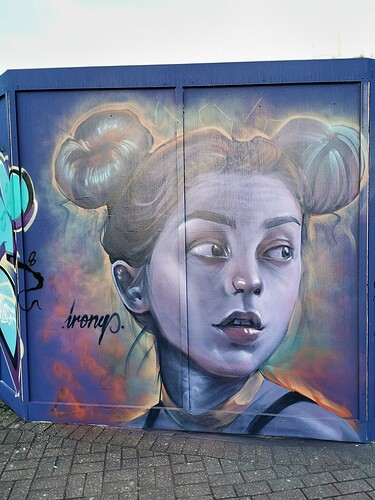 Many of the original pieces had already been refreshed and/or tagged. Those remaining were beginning to wear. It is after all temporary hoarding. I have no doubt something else will come along to replace this new piece in due time.
I liked the previous pieces but agree the nice thing about street art is that it evolves and changes and no one really controls it.
Yeah. It was nice to see some of the artists who contributed in January acknowledge this piece and retweet pictures of it.
Street art is by nature transient but luckily so much is documented and photographed for future study and appreciation.
Then of course there are often t-shirts.
Agreed. And that it can be provocative and challenging, encourage debate, and keep important issues in the public consciousness. Banksy didn't become one of the most significant artists of the generation by playing it safe.
What's nice about Banksy is that a) there's always artistic merit in his work and b) he doesn't act as a representative of an organisation.
His work is universal, and witty.
I meant that I doubt we'll be seeing the back of the latest eyesore any time soon.
ouch… it's only temporary. Better than looking at a construction site or the old coop for that matter.
Artistic merit is subjective isn't it? And I didn't see this immediately as the artists representing an organisation so much as making a point through a widely used statement. Of course they may be part of an organisation, but I don't think that's clear.
Yet neither examples are anywhere near as divisive as this eyesore.
Very much prefer this to a building site!
It isn't a building site. It's a demolition site.
In that case may i suggest averting your eyes or taking a different route. Seems like the majority are enjoying this urban canvas.
I'm clearly a glass half full kind of person.
Time for a tea and biscuit break everyone.

A few people posting on a local forum doesn't in any way constitute as the majority consensus of SE23.
True. And he certainly hasn't shied away from this issue. With no words, you could argue it is more subtle then the new piece on Waldram Park Road. But some might suggest an image of a burning flag is much, much more political. Like any art, the answer will always be different depending on the viewer.
Also true. Not every artists sells t-shirts.
So what would you want to see?