I just drove past, and it looks even better in real life!
That's great - banana gets my vote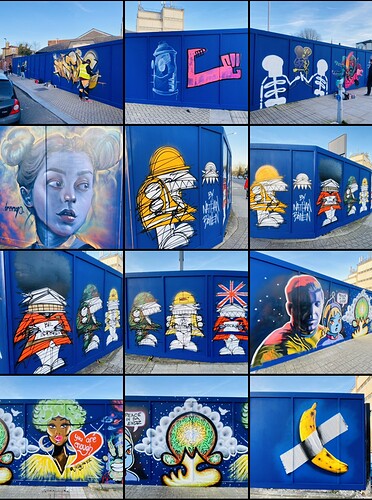 I saw it on my way home today. It's certainly brightened up that corner. Always good to see some new Nathan Bowen work going up. Hopefully it doesn't get tagged too quickly.
Can we get them to do the foot tunnel under the railway too. It's not very inspiring under there.
See it today, Looks good. Better than a bare hoarding that will get tagged anyway.


Literally just drove past and was pleasantly surprised to see the banana has been nibbled!!!
Brilliant!
Will it continue to morph with maggots and flies? (Butterflies would nice coming into the Spring)
I would second that! The underpass in Herne Hill was once very grotty and got positively transformed by artwork. With all this new found momentum to brighten up FH by all these talented artists, I would love to see some welcoming and inspiring colourful creativity in that space.
Does anyone know who/how this could possibly get approval?
That gets my vote too. I walked through the Herne Hill underpass recently and its so much nicer than the one in Forest Hill. If we can get the FH one looking anything like the HH one then it will certainly be of benefit. A great idea by chamonix to get the graffiti artists to brighten it up.
As I went past today it looked like a new large scale piece was being started down the Stanstead Road bit.
I'm kinda sad it may replace some of the previous pieces, but also excited to see what new will emerge. Certainly it's continually interesting and fantastically artistic, compared to tagging or other scrawlings that would be inevitable otherwise.
As I passed by did I see the banana panel gone?
ETA. I was half asleep in the cab on the way by. What I thought was the missing panel was the gate to the courtyard. Banana is still in situ… barely.
The banana has now been replaced with a couple of bin bags - quite an amazing evolution over the last few weeks. Though given I seem to remember you weren't the biggest fan of the bin bags on the hoarding around the corner, I wondered if you might have been being trolled!
Ha! Whilst my ego would like to think Lionel did this just for me… I think he may have had a plan all along. Might have to add my own tag to the work… in the great tradition of street art.
I like the detail that it looks like some of the adhesive from the gaffer tape is left still stuck to the wall!