Thanks @MackemJo and @Londondrz. We get one in our garden each evening as well but it's truly dark then, bar when the security light comes on when it triggers it!
What camera/phone are you using?
I've got an Olympus EM5 MKII. It's a lot smaller and lighter than a traditional DSLR. Smaller sensor but good enough for me.
Went into the garden after a bit of rain a few days ago to see what appeared to be an invasion of snails! Here is one of them.
Couple of pics from the garden and the allotment today…

Nice! I love Robins, amazing how 'tame' they are. I didn't see one last year at the allotment but now have a companion most times I am digging.
Lovely pics, particularly the robin shots. What camera are you using?
Nikon D90 with a macro lens.
Trying to get back into photography as I have a bit more time these days…
I'm in love with the Robin and garden fork shot.
Very nice Les! Do you now what plant the bumblebee is on?
@Foresthillnick ifnyou are using your macro lens there were some grasshoppers / crickets around last year which might make good subjects and they tend to stay still if you can get close enough!
We had an unexpected visitor land on our bedroom window ledge this evening. Can only assume that she had escaped from somebody's home. Very friendly, but flew into the trees after about 20mins, chirping away. Hopefully she returns to her owners.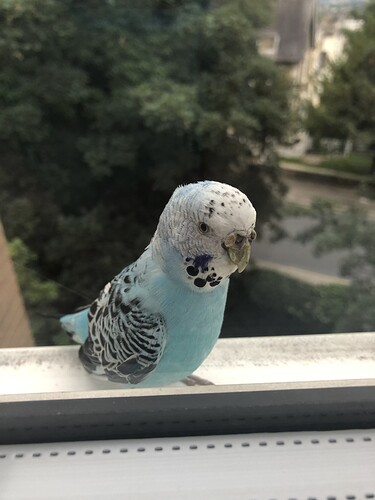 I hope the owners have got her back as the other birds might attack her. Brought back memories, we had a budge that colour for 11 years when I lived with my parents. They are lovely pets.

Spider with what I think might be eggs on her back (I could be wrong)
Hoverfly