Continuing the discussion from Proposed Development on Duncombe Hill Green [2018-2019]: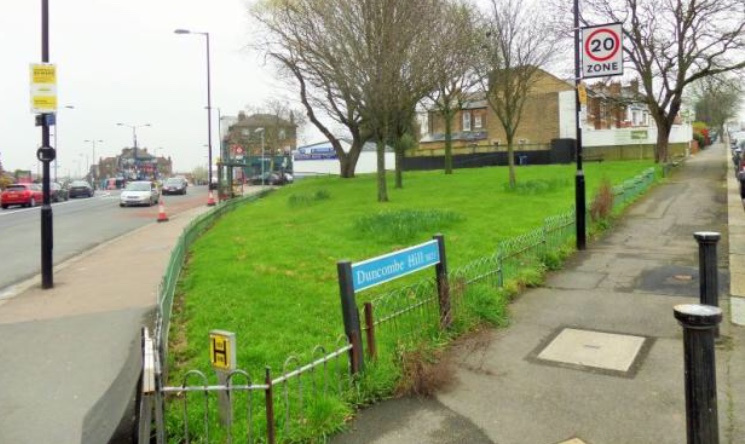 Update: Lawyer Matt Lewin will represent the opposition to this development at the meeting on Jan 23rd
A revised application has been put forward and it's going to the planning committee next Thursday 23rd. I've pasted the letter I got below
Dear Commenter,
Construction of a part three/part four storey building on land at the corner of Duncombe Hill and Brockley Rise SE23, to provide 6 two bedroom and 1 one bedroom self-contained flats, together with landscaping, cycle storage and bin stores (Please note revised plans and additional documents have been received).
I am writing to invite you to the Planning Committee on Thursday 23 January 2020 at 7.30 pm in the Civic Suite at Lewisham Town Hall Catford Road, London SE6 4RU.
You can inspect Committee agendas on Lewisham's web pages at the following address: http://councilmeetings.lewisham.gov.uk/mgCalendarMonthView.aspx?GL=1&bcr=1.
Hard copies of the committee agendas can also be inspected on the Committee date at the venue before the meeting begins.
A representative of the objectors will be able to speak to the Committee for 5 minutes giving reasons for objecting. Please phone me at least 48 hours before the meeting if you wish to speak at the meeting.
Please arrive for the meeting at 7.15 pm so that I can take details to arrange the business for the meeting. The order of business will not necessarily be taken from the order in the agenda but will reflect the extent of public interest and other Council priorities. Please note that these meetings frequently continue until 10 pm and it is not possible to predict at which time this proposal will be considered.
I would be grateful if you could see me when you arrive for the Committee meeting.
How beautiful this Green looks everyday. I like many are dam thankful for such a delightful area. Please kindly look elsewhere especially houses or areas that are not being used or need doing up. I like many don't want to not see the green disappear for a buck. That patch of green is what makes Honor Oak Park. This history the memories they mean a lot especially to people who have lived here for 40years well regardless of how long. Can us local who care so deeply about this green beautiful patch have the power and rights to stop such actions being taken so the individuals don't pocket something that will not shine like this natural beauty?? Council please don't act so quickly to get millionaires to throw money around like it's nothing. And take it to help you pocket a profit…Money just can't buy class!!
Also there are trees there should you really be encouraging them to be cut down. After all they help give us life one being oxygen. Our environment is already being attacked and we should be showing better respect to that!!
The briefing doc makes it pretty clear on the last page the direction they want to go too:
Of course, there's nothing to stop the developer changing the plans and trying again if this is refused, though some of the above points would be a severe hindernace at least.
Is anyone putting themselves forward as a representative of the objectors?
If not, then I can and will put forward my findings that the whole site is still subject to a non terminated,1968 Agreement held between London Borough of Lewisham and the previous incarnation of JC Decaux and requires that the whole of this triangular land by Duncombe Hill/Brockley Rise is maintained as open, green space by London Borough of Lewisham and accessible at all times as "public gardens".
If anyone else wants to be the representative at this meeting, then I will provide the details revealled by my Freedom of Information application from September 2019 and already posted on a parallel thread, if required.
Let's get a plan folks - I am putting myself forward to speak as a representative of objectors at the meeting on 23rd January 2020.
I've been monitoring the Planning application for this site very closely. The plans were lodged in March 2019 and have not been issued with a decision to date. Quite extraordinary when planning applications are usually decided after 6 weeks [or near].
As we are all aware - the TPO and hoardings issues were both decided and the site has been re-opened to public view, but not a decided issue on the main substance - i.e. on the planning application to build.
My legal training is of use in this matter to ensure that this planning application is refused. I have a copy of a non terminated legal agreement dated 1968 provided to me by Lewisham Council following my Freedom of Information request in August 2019.
Lewisham Council agreed to maintain the whole of the triangular site [which was owned by the privately owned advertising firm now known as JC Decaux who then sold part of the triangle to another privately owned developer company by way of public auction in 2018] subject to allowing the whole site to be kept as "public gardens".
This legal agreement was not terminated prior to the Sale of Part of the site in 2018.
Therefore, the public can continue to use all of the Duncombe Hill site with Lewisham Council continuing to maintain the whole site until a legal termination/amendment of the 1968 Agreement occurs.
In my view, this is the most comprehensive, legal method to present at the planning meeting on 23rd January 2020 in order to ensure that there will be no building development on any part of this open green space.
If I speak at this meeting, I will also put forward the obvious fact that between Blythe Hill Fields and Honor Oak/Forest Hill then this triangular fragment is the only available green, open and public space. If any part is lost to development, then the loss cannot be compensated elsewhere.
Please post up any recent response correspondence received from local Crofton Park councillors.
Yes it's been slow. I guess the enforcement action on the fence and subsequent appeal took some time, though one would think they would/should run parallel. The planning committee brief does detail all of that history though.
The committee briefing covers this in paragraphs 5 to 7. In short they believe the agreement to have been terminated prior to the sale of the land:
The brief also looks at the London Squares policy and designation, and shows the actual site considered for development is not covered, summarising in paragraph 10:
While finding a prior legal basis to prevent development on the site would have been nice, it's not all doom and gloom, and they list plenty of reasons to refuse planning - and recommend to refuse it too, as per my previous post on this topic.
Apparently someone on the private Facebook group said they'll put forward Matt Lewin, but there's no public record of this, and I'm still inexplicably blocked from the private Facebook group so I can't confirm unfortunately.
This is a copy of my Freedom of Information request to Lewisham Council dated 9th July 2019 and posted on a related thread here.
My request for Freedom of Information from LBL
I request copies of any relevant contractual agreements entered into between LBL and the private company owners of the entire site made prior to the 'Sale of Part' of the 'Green' in 2018 relating to the terms by which LBL agreed to maintain the 'Green' at public expense.
I request copies of any known, relevant documentation of any Land Registry restriction placed on the Title Deeds of the privately owned Duncombe Hill 'Green' plot and resulting from the contractual consequences of LBL agreeing to maintain the 'Green'.
I only received a copy of the 1968 Tenancy Agreement and nothing else. Therefore, the Planning reference to a termination of part of the Agreement is fresh to me and unexpected. I note that whilst a copy of the Tenancy Agreement has been appended to the Report that there is no appended copy of the termination agreement and this is key to the argument.
Paragraph 7 of the 1968 Tenancy Agreement clearly requires that termination is not possible without the consent of the other party. In which case, Lewisham Council would have had to agree to permitting the loss of green space previously kept open as "public gardens".
My FOI request clearly requested disclosure of any known contractual agreement entered into prior to the Sale of Part between Lewisham Council and any private company owners.
I haven't received a copy of the alleged termination relating to the applicants land and no copy is appended to the planning committee brief.
Therefore, I believe that I will attend and speak against this application as something is clearly amiss.
What do you folks think on the logic in the above?
I've participated in this process before. Objectors are given only five minutes to make their case. That is not five minutes each, but five minutes total. It is the responsibility of the objectors to coordinate among themselves how this will be done.
If you plan to participate yourself it would probably be in yours and everyone's benefit that you coordinate in advance with Matt Letwin which the Save Duncombe Hill Green group have chosen to speak on their behalf.
Good advice Starman, but not possible.
I joined the Save the Duncombe Hill Green FB group and was immediately banned after 1 post!
I'll leave it to Matt Letwin to engage through this site. Otherwise, I will attend as an individual objector.
Is this for sure re Matt? I can't see it listed on the group FB page?
The person that made the post on the Facebook group is quite prolific at blocking people on social media, and she may have blocked you from her posts, but not yet from the group as a whole.
Ok yes that appears to be the reason.
No doubt the developer will be pleased to hear it.
Well, I suggest to others here, who are still on the Duncombe FB site, to simply direct them to these posts and to communicate/copy their intentions.for others to comment.
…or for someone here to copy/paste the intentions from Duncombe FB posts!