What does a Meetup Involve?
In May, four days after SE23.life went live, a few of our first members met at The Hill Lounge. Turns out we're an interesting bunch and had a great evening getting to know each other and sharing ideas for SE23.life.
We're keen to do it again in June. An open invitation to all forum members - a casual sit/stand get-together with no fixed agenda, and where you can feel comfortable just popping in for five minutes to have your profile verified, or stay and see where the night takes us.
Us @admins are keen to know how SE23.life can work better for you - I'll exchange a drink of your choice for your insight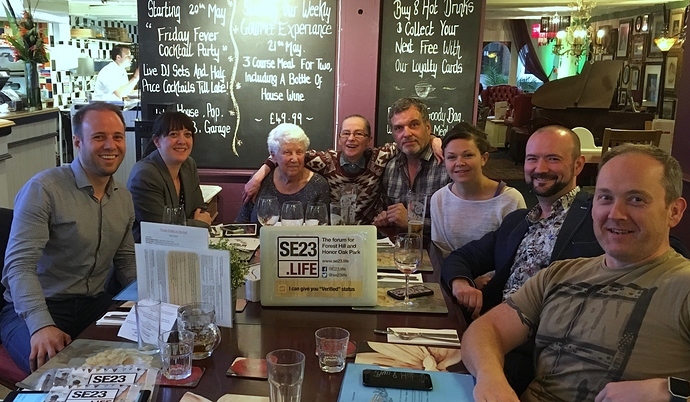 Date
Thurs 30th is the clear winner from the poll
Venue
The Perry Vale did lovely food, but their layout seemed to lend itself more to a restaurant atmosphere?

The Sylvan Post could be good.

Signal also (although they charged me £11.50 for a double G&T the other day, which was a bit of a stinger. I accidentally chose the good stuff!)

I think we'd get a bit "lost" in the Capitol - it's just so massive, and open plan. Let's have the "after party" there if people are up for it. It is shutting down, after all.
The Perry Vale
Sylvan Post
The Signal
Other - please comment below
Booking / Numbers
Thanks for the offer of booking a space @Pauline. I'm not sure at this stage on numbers but let's assume ten people
Whichever venue we choose, I reckon there's some good PR in it for them!

Bar Tab
I've had one or two people interested in commercial posts lately. If any of these comes to fruition, I'll put every penny of revenue behind the bar for the meetup.