Great Restaurant and food vendor was broken into yesterday. Windows smashed etc
Police are calling for information that might help
My other half knows the ladies and they have have had a hard time. This is just dreadful. What selfish Cambridge University Netball Team players!
Just phoned my other half, Caroline in floods of tears and Anita devastated.
@Cazimo Thanks Caz, it gets it across but is not understood by younger viewers

See you next Tuesday is another way to put it. As in C U Next Tuesday. @Londondrz @Cazimo although I do like John's version.
Really sad this has happened to them again as they're really nice people

Anything we can do to support them?
I believe someone has offered to repair the windows which is fantastic. It has also been removed. Some people are just sick b'stards.
Unless they've been to the City University of Newcastle-upon-Tyne.
Sorry. V rude.
Once in a dispute at the school I work in, I formed the Council for Unified Non Teaching Staff - didn't go down well.
They would like to thank everyone for the support & like your comment @Londondrz
Maybe we could help by finding someone to move the van, possibly storing it for them if needed for free.
And if anyone could lend a cover, that sounds like it might be very helpful too.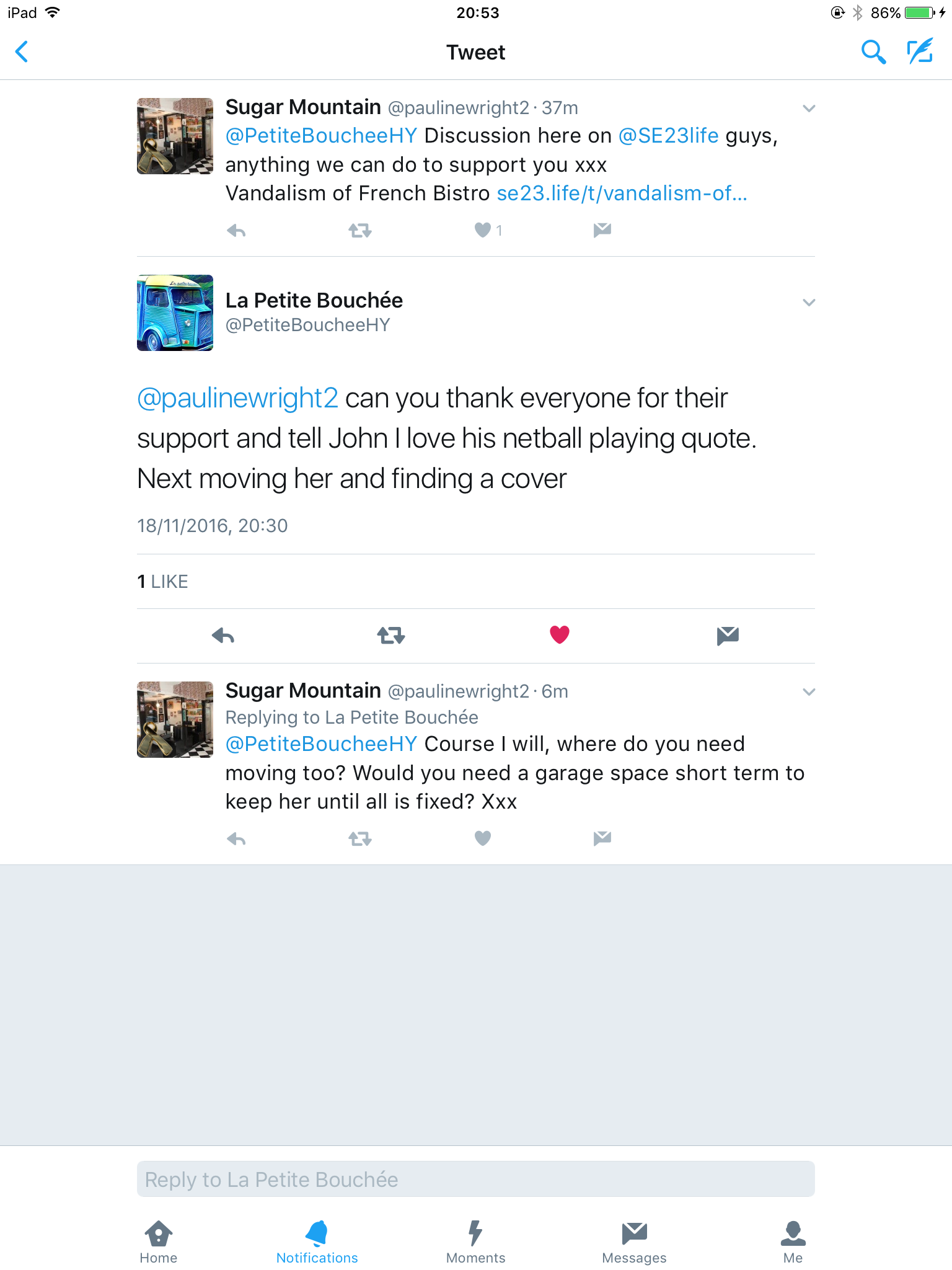 @Pauline I understand the van has been moved already.
Possibly, that discussion was about 2 hours ago.
Stuff like this makes me so angry because it could quite easily wipe out a small local independent business that contributes to the communities & beyond



It really makes me angry & hope the "Competent Under Nineties Trust" gets found & put away!
Statement from La Petite Bouchee:
http://lapetitebouchee.me/statement-la-petite-bouchee/
The aftermath of these attacks is heartbreaking to read.
Running a small business means putting yourself out there and being vulnerable to the whims of the government, the public, press, and spiteful competitors. The latter is the worst. It's a horrible feeling, to put huge energy and time into a fledgling business and to know someone else is actively trying to destroy it.
If there's any silver lining, it may be that the press coverage of these incidents will cement La Petite Bouchee into peoples' minds, and their next ventures will be well supported as a result.
Offered them some free IT work - not that they probably need it but you never know…
I hope the police catch these sick bastards. Lynching anyone?
Obviously not a real lynching, the snowflake generation would have a moment.
Caroline & Anita need to borrow a large tarpaulin for a few days, has anyone got one they could lend?
Wish we could help - just walked past to see it boarded up. Terrible, really hope they are caught.
Will have a dig in the shed tomorrow morning. I think I have one.
They've got some now!
She couldn't be moved in the end today as the pick up truck broke down, but will go ta a safe place tomorrow.
Fingers crossed all is well tonight

@AllInnOne lent a tarpaulin & @FHGinClub offered to lend some too, they popped in this morning to thank us for the FH support,
The van was due to be moved to a safe place at 11.30, so hopefully she's on her way now, and they hope to be back up and running again in January. But this won't be in Wells Park. So any suggestions & I'll pass them on…